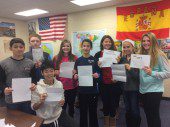 Weaver and Davidson students in Ms. Urbanek's Spanish 1 and 2 classes put their classroom communication skills to authentic use when they wrote Spanish letters back to their pen pals in Navalcarnero, Spain.
Ms. Urbanek lived in Madrid, Spain during 2014-2015 school year and worked as an English Language and Culture Assistant at a high school in Navalcarnero with a program through the Spanish Ministry of Education. She said, "It's a great feeling seeing that "spark" when students have an authentic platform to use their Spanish. With the ease of social media these days, students can keep these connections alive. ​These are the kind of connections I was looking forward to bring back to Hilliard students after my year in Spain. "
Giving students opportunities to communicate and make connections with other students globally prepares them to be Ready for Tomorrow.