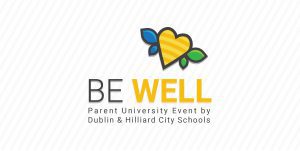 Dublin City Schools and Hilliard City Schools will be partnering together to host "Be Well: A Parent University Event". The event will feature several free informational sessions for community members focused on student and family well-being as well as community book talks.
---
Be Well Sessions
Saturday, March 9 from 9 a.m. – 3 p.m.
Dublin Emerald Campus & Hilliard Darby High School.
Session topics will include anxiety, stress, depression, the connection between physical and emotional well-being, substance abuse, social media safety, bullying, and many more.
Register Now
View Course Catalog
Book Talks
Unselfie: Why Empathetic Kids Succeed in Our All-About-Me World By Michele Borba, Ed.D.
January 21 – January 31.
---
What Made Maddy Run By Kate Fagan
February 1 – March 4
Author Sessions
February 20
Michelle Borba, Author Unselfie
Hilliard Darby High School 6:30pm – 8pm
---
March 15
Kate Fagan, Author What Made Maddy Run
Dublin Scioto High School 7:00pm
---