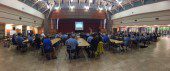 We know our grounds and custodial teams are an integral part of our Hilliard City Schools family. When it comes to the safety of our students these men and woman will be working directly with our teachers in the event of any emergency. This summer our staff went through a safety training seminar with the Hilliard Police Department.
Our safety plans, for obvious reasons, are not part of public records. We work closely with our local and state law enforcement; we have an active safety committee comprised of representatives from multiple jurisdictions and organizations.
We have great partnerships with our local authorities; we have great partnerships with our parents. We must continue to work together, to have appropriate conversations with our staff and our young people, and to prepare for the unthinkable.