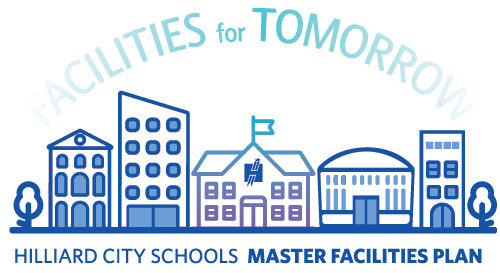 Planning educational environments that support current and future practices for our students
The primary purpose of this planning process is to ensure that Hilliard City Schools facilities have the ability to meet the district's educational needs today and in the future. This will involve facilities adaptable enough to accommodate a variety of educational approaches and strategies.
The Master Facility Plan Steering Committee has developed scenarios and options after months of research. We are asking our community to take part by giving feedback through an online survey. Please watch the video and look through the documents provided and then take the survey.
On November 13, 2019, an Educational Framework questionnaire along with a presentation and supporting data was released to the Hilliard Public. This questionnaire was designed to gauge the preferences, tolerance, and thoughts of Hilliard's community in regard to facilities, grade configuration, and potential boundary changes, among others.
The questionnaire was available to complete for 1 week ending November 21, 2019. Four hundred and thirty-seven (437) responses were collected encompassing feedback with affiliations at every school in the District.
Cooperative Strategies would like to thank the students, staff, Board of Education, and the community of the Hilliard City Schools for their commitment and dedication to the planning process.
Out of the 437 responses, below are the most prevalent comments/concerns:
1. All-day Kindergarten at all elementary schools
2. Need another 6th grade school to clean up the feeder patterns
3. All facilities should be equitable
4. Safety of facility and students
5. Expand special needs Pre-K and support options
Respondents were also concerned with the degree to which technology influences the school experience. There was support for adding to/updating existing facilities as well as to build new facilities. Overall support for elementary redistricting is high. A push for more mental health services was also a common theme.
Thoughtexchange
We launched an exchange with the following question to discover different perspectives and inform our decisions on this important topic. You can explore the results of this exchange with the interactive tools below.
Facilities for Tomorrow Conference
The conference was held on October 20th.
Members of our community learned about current and future trends in education and participated in small group discussions. 
Documents
View the meeting presentations and handouts.
FAQ
Questions?
Look Here to get answers and learn more about the Master Facilities Plan process.
Time Line
The process will take place over several months.