COMMITMENT PLAN | 2019-2020
INTRODUCTION  | The district lives the Mission Statement, to prepare every student to be Ready for Tomorrow, through purposeful actions in the classroom. This requires personalized academic instruction to ensure a strong foundation in specific content and knowledge areas.
This plan outlines the district's commitments for the upcoming year, along with specific action steps, goals, and measurement tools.
Hilliard is preparing the next generation of American citizens to prosper and thrive in a different time – in a world that will demand divergent skills and competencies. It is the implementation of this commitment plan that will continue to set Hilliard apart from other districts. The Hilliard Way starts and ends with the talented, committed people in this district.
---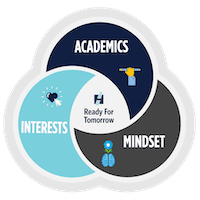 OVERVIEW  |   Students will meet or exceed expected grade-level benchmarks on local and state assessments. Students will display independence and responsibility by articulating their own needs and embracing their own learning experiences.
ACADEMICS  |   Instructional staff will design and implement personalized learning experiences and interventions to maximize student learning by May 29, 2020.
INTERESTS |   Instructional staff will design and implement learning experiences that encourage students to explore and discover their interests by May 29, 2020.
MINDSET |   All staff will create and foster a culture that embraces the whole child and enhances student well-being by May 29, 2020.
---