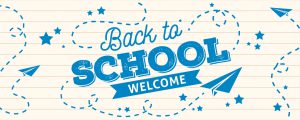 Hard to believe summer is almost over!  We look forward to welcoming students back to school on  Wednesday, August 21st!
Listed below is a lot of important back to school information.
Student Handbook
Please review the 2019-20 Student Handbook
Home Access Updates
Make sure to keep your contact information updated on Home Access!  Should we need to contact you in an emergency, this is our source of your information.  It's also very important to make sure your current email address is on Home Access to ensure you receive our weekly emails.
School Supplies
At the high school level, there is no set list of school supplies.  Supply needs vary depending on what courses a student is taking.  Teachers will provide a list to students once school starts.  Most students just need some basic supplies (paper, notebook, pen/pencil) to get started.
Free Lunch Applications
Free lunch applications can be done online this year!  Paper copies will also be accepted.
Technology Protection Plan
We strongly encourage you to enroll your student's device in the Technology Protection Plan!
Coverage lasts for the current school year and is renewable each subsequent school year.
Athletic Information
View the 2019-20 Athletic Handbook
Transportation Information
In order to find your bus stop visit the Transportation Department
In the middle of the screen you will see a green bar, select: Find My Bus Stop
Under the words BUS STOP, select the 1ST  tab:  In-District Student
Enter the requested information:  Student ID and Date of Birth
Important  Links