Bradley eNews – September 24, 2021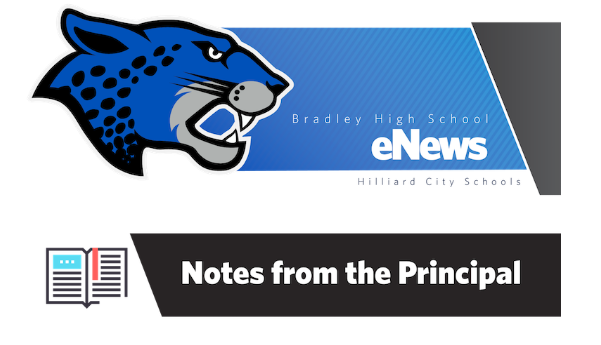 .
Good Afternoon Jaguar Families, 
Starting Monday, September 27th, we have a host of activities planned for Spirit Week and Homecoming. We encourage all of our students to participate in these events as we get ready for Friday's outdoor pep rally and the football game against Hilliard Davidson.
The annual Bradley Homecoming Parade is Friday, October 1st at 6:00PM. The parade route is different than in the past, so please pay attention to the parade route signs that will be posted around the parking lot. Immediately following the parade is the Davidson football game. More information can be found on Bradley's website.
Homecoming week will culminate with our Homecoming dance, "Light Up The Night", that will be held on the football field from 7pm to 10pm on Saturday night.
We will hold virtual parent teacher conferences on October 13th. The live link for signup will be available on our website on the afternoon of Wednesday, September 29th. Please do not hesitate to contact me or your students' teacher if you have immediate questions or concerns.
Have a great weekend and Go JAGS!

On sale now! Order your Proud to be a Bradley Jaguar Mom, Dad, or Grandparent shirt, a Bradley 2022 Senior shirt, or a Proud to be a Bradley Jaguar shirt now through September 29!
Bradley PTO has partnered with Hilliard's own Powell Prints to offer these exclusive designs in a variety of styles for both men and women including short- and long-sleeve tees, sweatshirts and hoodies.
Shop now at https://bradleypto.itemorder.com/  Hurry! Sale ends 11:59 p.m. September 29!
Have questions? Send an email to HilliardBradleyPTO@gmail.com.

Reminder!!!
DEADLINE TO SIGN UP IS MONDAY, SEPTEMBER 27th through MyPaymentsPlus!
The PSAT/NMSQT is Wednesday, October 13! 
What: "The Preliminary SAT, also known as the PSAT/NMSQT® (National Merit Scholarship Qualifying Test), is a preparatory version of the SAT exam. If you earn a high score on the PSAT your junior year, you could qualify to receive a National Merit Scholarship—$180 million dollars in merit scholarships are awarded to students each year! Testing your skills in reading, writing, and math, the PSAT is 2 hours and 45 minutes long." **This year, we are offering the PSAT/NMSQT to juniors only in October. All sophomores will have the opportunity to take the PSAT10 for free in March.
Where: Bradley – students will be in the Field House
When: 7:40am (Wednesday, 10/13/2021)
Cost: $24 — You can register through MyPaymentsPlus (due to COVID restrictions, we are not accepting cash or checks this year)
Counselor News – September 2021
September is a great time to start to work on your common application process.  Colleges are coming to Bradley to talk about their schools.  Please sign up through Naviance, you will find the dates and time of their visits.  The school counselor web site has a link on how to complete the common application process, check it out.
So What Should my SENIOR student be doing in Naviance?
Add Colleges to "Colleges I'm Applying To" List
Start a Common Application & Link Common App to Naviance
Sign up for College Visits coming to Bradley (Limit of 5 for seniors, 3 for juniors)
Finish Senior Profile
Make sure to click "request transcript"
Talk to Teachers about Letters of Recommendations (then request through Naviance)
Explore Strengths/Career Clusters
September is, National Suicide Prevention Month
We can all help prevent suicide. Every year, the Lifeline and other mental health organizations and individuals across the U.S. and around the world raise awareness of suicide prevention during September, National Suicide Prevention Month.
Please visit the school counselor web page for many updates and information about many of the wonderful programs offered here at Bradley.
https://www.hilliardschools.org/hbr/guidance/

Apply for the 2021 Bradley Leadership Retreat
The Leadership Retreat is one of our favorite traditions at Bradley High School! This two-day retreat is open to all Bradley students, grades 9-12. The application window will remain open until 3:00 p.m. on Friday, October 1st. Students can apply by visiting the "Leadership Retreat 2021" module in their "HBR-Class of 2022, 2023, 2024, or 2025" Canvas page. This year, the Leadership Reteat will take place at Bradley High School on Friday, October 22 and Saturday, October 23rd and have a participation fee of $20.00 (scholarships are available). Only 100 students will be accepted to take part in this event. Retreat attendees will have the opportunity to participate in workshops led by teachers on key leadership skills such as confidence, courage, cooperation, communication, creativity, and courage, explore their personal values, deepen existing friendships and create new ones, hear from keynote speakers, and use newfound leadership skills upon returning to their classrooms and extracurriculars. Encourage your student to apply today! Click here for more information about this year's Leadership Retreat.
Buy the 2022 Yearbook Now!
The 2021-2022 Yearbook is on sale now at jostensyearbooks.com. Buy one by September 24th and save $12! This is the lowest price the yearbook will be all year, so don't miss out on this welcome back sale. You can purchase the yearbook anytime between now and May 2022.
Senior Pictures due December 10th!
Seniors, plan when/where/how you're going to take your senior photos now! Go to the Bradley Yearbook website for a list of requirements and details about submission. The deadline to submit your senior photo to the yearbook is Friday, December 10th, 2021.

Wednesday, September 29 – Jostens Representatives (10th Class Rings) (12th Cap & Gown)
Saturday, October 2 – Homecoming Dance
Friday, October 15 – COI Day – No School