Bradley eNews – October 1, 2021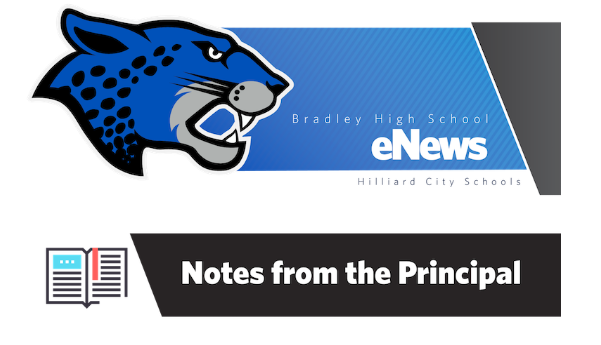 Good Afternoon Jaguar Families, 
Homecoming is here! Tonight's homecoming game against Hilliard Davidson High School starts at 7:00 p.m. The homecoming dance is tomorrow, October 2nd, from 7:00 to 10:00 p.m on the football field. Students, please remember to download your ticket and bring a picture ID.
I ask all of you to please talk to your sons/daughters about drinking. Many students may be asked to attend parties before and after the dance. If your child is attending a party, please make sure there will be parent supervision and that there is no drinking. A simple phone call can save a life. We want all of our students to have a great weekend, and it's critical that everyone remains safe.
We will hold virtual parent teacher conferences on October 13th from 2:45pm-7:00pm. Please click the live link for signups. Please do not hesitate to contact me or your students' teacher if you have immediate questions or concerns.
Finally, I would like to congratulate the following students for earning Student of the Month for August and September: Adrianna Anderson, Julian Dandridge, Sydney Driscoll, Everett Helm, Madison Kaylor, Mason Koons, Callene Laslo, Sarah Lee, Joey LoParo, Jineen Musa, Sebastian Penaherra, Saimir Refatllari, Haley Roberts, Amanda Robison, Evan Rygalski, Hamzah Saleh, Kylee See, Eric Sese, Loryini Silva Calix, Robert Snyder and Kaitlyn Wilson.
Have a great weekend and Go Jags!

Counselor News – September 2021
September is a great time to start to work on your common application process.  Colleges are coming to Bradley to talk about their schools.  Please sign up through Naviance, you will find the dates and time of their visits.  The school counselor web site has a link on how to complete the common application process, check it out.
Attention AP Students and Parents:  It is time to register for AP Exams.  Taking these exams gives you the opportunity to earn college credit.  Do not miss out on this opportunity!  The registration window will be open September 27th – October 25th.  Please note you must pay the exam fee to complete the registration process.  Being registered on College Board does not order an exam.  Payment must be completed to complete the exam order.  The cost of each exam is $96.  If you completed the free/reduced lunch application and were approved, you qualify for a reduced fee of $53 per exam.  Credit card (preferred payment method), cash or check are accepted.  You can pay with a credit card online at MyPaymentsPlus.  If by check please make payable to Hilliard City Schools.  Payment is due in full by October 25th.  There will be a $40 late fee for any exam order after October 25th.  If you have any questions please see Mrs. Buscemi or Mrs. Wintrich in the guidance office or they can be reached at Jessica_Buscemi@hboe.org or Melinda_Wintrich@hboe.org.
Congratulations to our own Aidan Hennes & Jaelyn Hopson, who are two of 34,000 Commended Students throughout the nation who are being recognized for their exceptional academic promise. Commended Students in the 2022 National Merit Scholarship Program placed among the top 50,000 students who entered the 2022 competition by taking the PSAT/NMSQT test in 2020. Those being named Commended Students have demonstrated outstanding potential for academic success! Congratulations!
Another congratulations to our own Audrey Ortiz, Lilly Ortiz, Christian Harris & Natalie Esquivel, who are four of 32,000 students from across the country to earn academic honors from the College Board's National Recognition Programs! These National Recognition Programs grant underrepresented students with academic honors that can be included on college and scholarship applications and connect students with universities across the country, helping them stand out during the admissions process. Colleges and scholarship programs use these honors to identify students from underrepresented groups through College Board's Student Search Service.
One more congratulations to Nurah Baseer, who received the Honda-Ohio State STEM Award for the Class of 2022!

Buy the 2022 Yearbook Now!
The 2021-2022 Yearbook is on sale now at jostensyearbooks.com. Buy one by September 24th and save $12! This is the lowest price the yearbook will be all year, so don't miss out on this welcome back sale. You can purchase the yearbook anytime between now and May 2022.
Senior Pictures due December 10th!
Seniors, plan when/where/how you're going to take your senior photos now! Go to the Bradley Yearbook website for a list of requirements and details about submission. The deadline to submit your senior photo to the yearbook is Friday, December 10th, 2021.
Seniors:
It's time to place your graduation order.  Jostens will return to Bradley HS on Thursday, October 7th during lunches to collect graduation orders.  Now is the time to order your graduation cap & gown, custom Bradley announcements and class of 2022 MERCH.    Extra packets are available in the main office.
Sophomores:
Jags class of 2024, it's class ring week!  Reminder, order your class ring online or in-school by Thursday, October 7th and pick from 1 of 3 FREE gifts.  Softshell jacket, adidas backpack or Wireless Earbuds.  Details are online and on the front of your class ring packet.  Bonus 2024 companion rings will be delivered in-school on Thursday with all completed ring orders.  Extra packets are available in the main office.

Saturday, October 2 – Homecoming Dance
Thursday, October 7 – Jostens – Class Ring and Graduation Order Pick Up
Tuesday, October 12 – Picture Retake Day
Friday, October 15 – COI Day – No School

Online Academy Registration for Second Semester
On July 1, 2021, Governor DeWine signed House Bill 110, Ohio's 2022-23 biennial budget, which contains a number of important changes to laws and programs that impact Ohio schools and Online Academies.
What this means for our families is that beginning with the second semester, students enrolled in our Online Academy (OA) will no longer have their home school named on their official transcripts.  OA staff will be calling all families with Seniors to discuss what this means for graduation.  These students can still graduate from their home school and receive a diploma from their high school, but the official state transcript will say Hilliard Online Academy.  Again, all senior families will get a call beginning next week.
For families interested in the Online Academy for the second semester, the registration window will open up October 25-29.  Many more details will be coming in the following weeks, but we want to give families as much time as possible to plan for the second semester.  As always, you can find more details about course offerings and all things Online Academy by clicking on this OA webpage link.
Recognizing Exceptional Staff
We would like to announce a new staff appreciation award that will be given to Hilliard City School employees.  The Embrace, Empower & Inspire Award will be presented throughout the school year to staff members who exemplify the values of the Hilliard City Schools and make exceptional contributions to our district. These staff members demonstrate the Hilliard Way by making a difference every day, investing time in others, and pursuing excellence.
We hope our students, families, community members, and staff will take some time to nominate the staff member they feel best meets the criteria.  You can watch the a video and get more details this web page.
Substitute Noon Aides Needed in Elementary
Are you looking for a way to help our elementary schools?  We need Subs for our Noon Aides.  This position can be a volunteer, parent, grandparent, neighbor, anyone looking to help out during lunch and recess.  You pick the days and schools you want to work with!  Please reach out to our HR department, jobs@hboe.org, to learn more.  They will walk you through the process to get signed up!
More Destructive TikTok Challenges
We are asking for our parents help as we hear of more monthly online TikTok challenges. These challenges encourage students to participate in illegal activities such as vandalizing school property, stealing items from their building or committing assault.
Principals are having conversations with students about the consequences of these challenges.  We again are asking for your help in explaining the seriousness of these acts to your student. Vandalism to school facilities or assault will not be tolerated, and students will be disciplined with potential law enforcement involvement.  We appreciate your partnership in speaking with your child about the importance of respecting school property and others.
How to Use Parent Accounts in Canvas
Canvas is the online Learning Management System we use in Hilliard Schools. Some of the ways your child's teacher(s) may use Canvas are: to provide links and images to important resources, to create online discussions where students can post and reply, and to receive, evaluate, and/or comment on work your child submits, digitally.  You are already enrolled as a Parent Observer in all of your child's active Canvas courses.  To login to Canvas as a parent observer go to hilliard.instructure.com or click on the link to Canvas from our HCSD Parent page. Your parent observer username and password match your username and password for Home Access Center.  HCSD has already linked your Home Access username and password to your Canvas Parent Observer account. We have also built a Canvas course for parents to learn how to use this great instructional tool.  To Learn More click on this following link: How to Use Canvas for Parents
Register to Vote
On the November 2 general election ballot there will be three Board of Education seats to vote on.   Please take time now to register, or confirm your voter registration.  You must register or update your voter registration no later than 30 days prior to an election which is October 4 for the November general election.  You can click this link to register.
Traffic Delays
The City of Hilliard wants driver to know they should expect delays during the next three weeks as Scioto Darby Road is resurfaced between the western Franklin County line at Big Darby Creek to Cosgray Road.
The resurfacing project is a partnership between the City of Hilliard and the Franklin County Engineer's Office. These improvements will include the southern portion of Cosgray Road between Scioto Darby Road and Latham Park.   More information can be found on their webpage.