Guidance Counselors
The school counselors are on summer break from June 15th through August 3rd.  All too soon, next year will be looming and we will be looking forward to another exciting and great year.
Counselors will be checking their email periodically throughout the summer break.

Theme of the Month – SUMMER – Have Fun, Relax, and Stay Safe


**Your safety and well-being are important to us! If this is a counseling emergency that cannot wait until the next business day, please reach out to one of the resources below:
Crisis Text Line: Text HOME to 741741
Nationwide Children's Youth Hotline: 1-614-722-1800
Suicide Lifeline: 1-800-273-8255
Teen Hotline: 1-614-294-3300
Sexual Assault Hotline: 1-800-656-4673
Safe Schools Tip Line: Call 1-800-418-6423 extension 359 OR text TIPS to 66746
Non-emergency Columbus Police: 614-645-4545
Non-emergency Hilliard Police: 614-876-7321

MESSAGE ABOUT AP COURSES FOR NEXT YEAR
There are a few changes with AP courses for next year.  We will be meeting with students during our Assessment Week to explain these changes.  One major change is that students are required to sign up for the AP exam earlier in the year. We encourage students to challenge themselves.  We want them to be sure they are committed to the rigor of an AP course.  We would like for students to decide before they leave for the summer so our counselors can work to change their schedules.  If students decide to drop an AP course in August, there will be a new process they need to complete.   See below for more information:
AP courses are more rigorous and can involve more outside work.  For some AP courses, there is summer work that is required.  We ask that students decide before May 31 if they would like to drop the AP course for next year.  Due to scheduling concerns, it is very hard to make this change in August.  There is no guarantee that you will be permitted to drop the course in August.  If you decide that you no longer want to be in the AP course in August, you must follow these steps:
Students who want to drop an AP course at the start of the school year must schedule a conference with an administrator to justify reasoning for removal from the class.  
The student's Guardian must communicate awareness of removal from the course with the teacher as well. This may be shown in writing.  This communication must be presented to the administrator.
Please talk with your child about this important decision.  If your child chooses to make a change by May 31, have your child contact the school counselor ASAP.   Your child will simply just choose another course.

Columbus Springs Summer Programs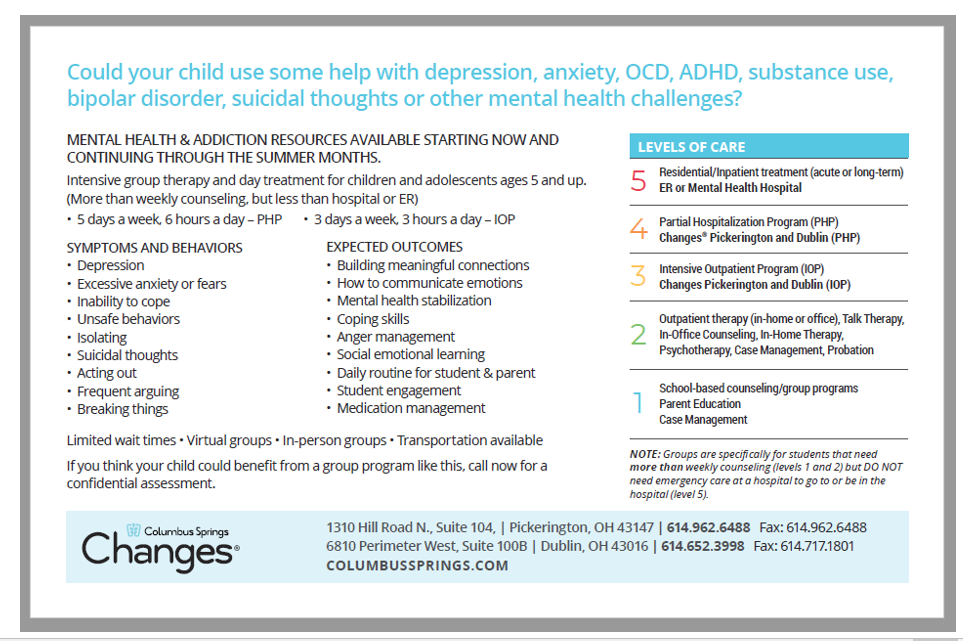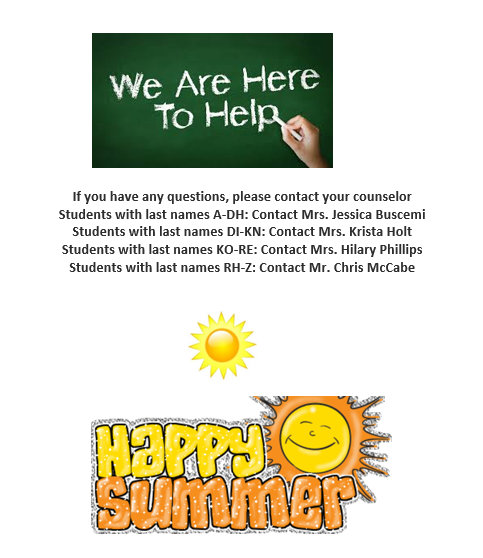 College Counselor: Tom Woodford
504 Coordinator: Cindy Cote