Bradley eNews – August 20, 2021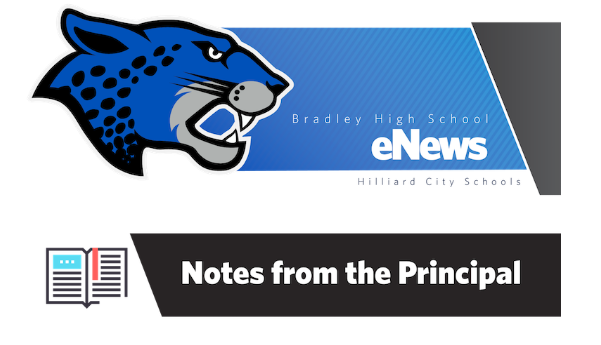 Good Afternoon Jaguar Families,
I want to thank all of you for your help this week. During our first two days of school our students have done an amazing job of making the start of the 2021-2022 school year memorable.
I would like to thank all of the freshmen parents who had an opportunity to attend the new parent meeting last week. If you did not have an opportunity to attend freshman parent night you can access the freshmen parent powerpoint.
This upcoming week we will hold class meetings with our students to discuss expectations, class goals, and create an overall plan for a successful school year and future.
Come out tonight to support our football team as they play their first home game and season opener against Sylvania Northview.  Tickets to the game and all athletic events are available only online through the athletic website.  The game will kick off at 7:00pm.
Have a great weekend and Go Jags!

How You Can Help Support our PTO
Follow us on Twitter, Facebook and Instagram @HBHS_PTO
Support our Spirit Night fundraisers at local restaurants
Make a donation (cash, checks, credit cards accepted)

Guidance Update
If you are requesting a schedule change, please use the "request a schedule change" link on the Bradley School Counselor Web Site.  It will allow us to process these requests more efficiently.  Please only submit one request.  Multiple request only slows the process down.  We are working as diligently on these requests please be patient.  Check HomeAccess periodically for updates on the schedule change request.  The link is below.
https://www.hilliardschools.org/hbr/guidance/
Please note, counselors are working as fast as we can to complete the schedule change requests.
SUPPORT YOUR BRADLEY JAGUARS!!

Tickets will be available online only this season.  Purchase athletic tickets by visiting www.hilliardschools.org/bradleyjaguars/tickets/.
*All-Sport Season Passes*
*Student Passes, Adult Passes, Family Passes*
*Reserved Football Season Passes*
*Individual Games*

Monday, August 23 – Make Up Picture Day
Monday, September 6 – Labor Day – NO SCHOOL
​​​​​​​
Wednesday, September 15 – Open House 6:00 pm