Bradley eNews – August 27, 2021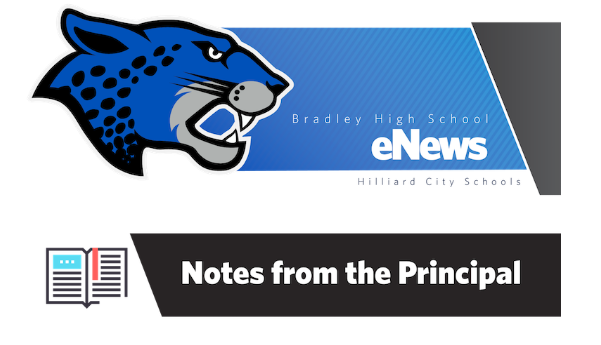 Good Afternoon Jaguar Families, 
The first full week of school is complete and our students did an outstanding job. This past Tuesday, we finished our opening class meetings for the 2021-2022 school year. We are excited to continue the positive momentum that has gotten this school year off to a great start.
On September 15, we will be holding an open house here at Bradley high school.  From 6:00 pm- 6:30 pm we will hold a senior parent only meeting hosted by our Post-Secondary Counselor Mr. Tom Woodford in the PAC to talk about the college admissions process. Beginning at 6:30pm we will hold a traditional open house where parents will have an opportunity to walk your students' schedules and meet their teachers from 6:30pm-8:00pm. In the upcoming weeks you will receive more information with a detailed schedule.
Have a great weekend and Go Jags!

How You Can Help Support our PTO
Follow us on Twitter, Facebook and Instagram @HBHS_PTO
Support our Spirit Night fundraisers at local restaurants
Make a donation (cash, checks, credit cards accepted)

Guidance Update
Last Day for a schedule change is September 1st.
If you are requesting a schedule change, please use the "request a schedule change" link on the Bradley School Counselor Web Site.  It will allow us to process these requests more efficiently.  Please only submit one request.  Multiple request only slows the process down.  We are working as diligently on these requests please be patient.  Check HomeAccess periodically for updates on the schedule change request.  The link is below.
https://www.hilliardschools.org/hbr/guidance/
All Bradley and Memorial home game tickets can be purchased at www.HilliardSchools.org/BradleyJaguars/Tickets
Friday Night Football!!!
Bradley at Darby WHITE OUT
Parents:  Remember to pay participation fees on MyPaymentsPlus.com by selecting Events & Activities.  Be sure physicals are updated and uploaded to Final Forms.
Monday, September 6 – Labor Day – NO SCHOOL
Wednesday, September 15 – 12th Grade Parent Meeting – PAC – 6:00 pm -6:30 pm
Wednesday, September 15 – Open House 6:30 pm- 8:00 pm
Wednesday, September 29 – Jostens Representatives (10th Class Rings) (12th Cap & Gown)

iPad Technology Plan Important for Students in All Grades
The iPad Technology Protection Plan* (TPP) covers the iPad loaned to the student for the 2021-2022 school year against incidental damage or loss over $50. Accessories (charger and case) and damages valued at less than $50 are NOT covered and are the sole responsibility of the student. Coverage is 24 hours per day. The Technology Protection Plan will only cover two incidents for the school year. NEGLECT IS NOT COVERED.
Because K-4 students now take their iPads home each day, we would encourage you to purchase the TPP. If the device is damaged, and you are not covered, you will receive a bill for needed repairs to the device.
The total premium cost for the 2021-2022 school year is $25 per student. The Technology Protection Plan is not refundable.
Payments can be made through MyPaymentsPlus.com through August 27th or by check made out to Hilliard City Schools. If paying by check, please write your student's ID number and TPP in the memo line on your check and turn it into your school office.
For electronic payments go to MyPaymentsPlus.com, create an account if you haven't already done so, 'add' your student(s), then click the 'Events & Activities' tab to view and pay the TPP option.
For more detailed information about the TPP, please go to our website: https://www.hilliardschools.org/one2one/ipad-tech-tpp/
Tag Day This Saturday
This Saturday morning our high school band students will be heading into the community to collect donations for the Hilliard Band programs. With the generosity of our wonderful Hilliard residents, we are hoping to raise $30,000.  If you will not be home Saturday morning but would still like to donate to these amazing young musicians, please click the link.  https://app.99pledges.com/fund/tagday2021
Columbus Metropolitan Library's School Help Centers Now Open
Columbus Metropolitan Library's School Help Centers are now open, offering afterschool help to the students in your family. Plus, they can get connected with virtual tutors for one-on-one help Monday through Friday from 2-11 p.m. Visit columbuslibrary.org/schoolhelp to learn more. Masks are required to visit the School Help Center