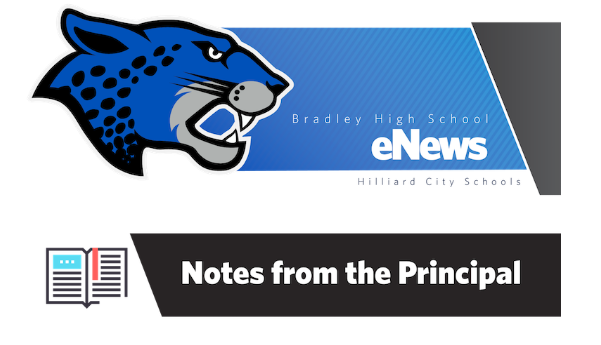 Good Afternoon Jaguar Families,
The first full week of school is complete and our students did an outstanding job. We are excited to continue the positive momentum that has gotten this school year off to a great start.
Congratulations to all of our after school programs that are officially in full swing. It has been great to see our students back in the building participating in clubs, theater, band and athletics again.
On Wednesday, September 14, we will be holding an open house here at Bradley high school.  From 5:30pm-6:00pm we will hold a senior parent only meeting hosted by our college coordinator Mr. Tom Woodford and Assistant Principal Mr. Cort Hamilton in the PAC to talk about the college admissions process and senior dates. Beginning at 6:00pm we will hold a traditional open house where parents will have an opportunity to walk your students' schedules and meet their teachers from 6:00pm-7:30pm. In the upcoming weeks you will receive more information with a detailed schedule.
Have a great weekend and Go Jags!

Hello Bradley family!  Welcome back to the new school year.  Please consider helping with Bradley PTO this year.  We are holding meetings on the 3rd Tuesday of the month at 5pm in the Bradley media center.  We would love to see some new faces!
If you cannot make the meetings, you can still help by signing up for Kroger rewards.  See the PTO webpage under the parent tab on the Bradley school website for directions in how to sign up.  The webpage will have new info as well as other ways to support PTO this year.
We are working on getting another spirit wear online sale up and running soon.  PTO will be at the first home football game this Friday selling the t-shirts we have in stock and answering any questions you may have.
Make sure to follow us on Twitter (@HBHS_PTO), Instagram (hbhs_pto), and Facebook (Hilliard Bradley High School PTO).
PTO looks forward to working with you this year!

Guidance Update
Have questions, please check out our Guidance Counselor Web Page.
https://www.hilliardschools.org/hbr/guidance/
Please note, counselors are working as fast as they can to complete the schedule change requests.

In order for athletes to participate, all of the following must take place.  **Physicals must be updated prior to participation.  Upload two forms from the physical — Physical Exam Form and Medical Eligibility Form — to the parent's Final Forms account (paper physicals will not be accepted).  **Both athlete and a parent/guardian must sign all forms in Final Forms.  **Participation Fees can be paid through your MyPaymentsPlus account (check or cash will not be accepted).  All athletes, including free or reduced lunch, must complete the payment process through MyPaymentsPlus.  Free or reduced lunch must check out through MyPaymentsPlus by paying half (reduced lunch) or $0 (free lunch) payment.  ATHLETES MAY NOT PARTICIPATE IN THE COMPETITIVE SEASON UNTIL ALL OF THE ABOVE IS COMPLETED.
Football Friday Night Updates!
Bradley vs Darby – Jaguar Stadium – 7:00  pm Kick Off
All tickets $7.00 each
TICEKTS must be purchased ONLINE at:
https://www.hilliardschools.org/bradleyjaguars/tickets/

Calling All Students!!
Drop in and join us for:
Mindful Movement for Mental Health
What: Weekly Yoga and mindfulness class guided by Mental Health Specialists
When: Every Tuesday in September (Sept. 6th, 13th, 20th, and 27th) from 2:45- 4:00pm
Where: Room A227
What you should know:
Every Bradley student is welcome.
No prior yoga experience is required!
No commitment or sign up necessary- come to any session you can.
SNACKS AND YOGA MATS WILL BE PROVIDED!
Bring a water bottle and comfortable clothes to move in.
Questions? Contact Mental Health Specialists Mrs. O'Neil (students with last names A-K) or Ms. Burgos (last names L-Z).

Monday, September 5 – Labor Day – NO SCHOOL
Monday, September 12 – Board of Education Meeting, 6:30 pm at Avery Elementary
Wednesday, September 14 – Open House 6:00 pm

AWS Global Leaders Visit Hilliard Schools
Leaders from the Amazon Web Services Inclusion and Outreach Global Team spent the day in Hilliard Schools at the Innovation Campus learning from our students and staff.  They heard how the support from AWS impacts our students in all grades, from kindergarten to seniors, ever day on their journey to be Ready for Tomorrow.  You can read more about this partnership on our webpage.
Parent Help with Canvas
Canvas is the online Learning Management System we use in Hilliard Schools. Your child's teacher(s) may use Canvas in a variety of ways.  Some examples are: to provide access to important resources, to create online discussions where students can post and reply, and to receive, evaluate, and/or provide feedback on work your child submits digitally.  As a parent, you are already enrolled as a Parent Observer in all of your child's active Canvas courses.  To login to Canvas as a parent observer go to www.hilliard.instructure.com or click on the link to Canvas from our HCSD Parent page.
Your parent observer username and password match your username and password for Home Access Center.  HCSD has already linked your Home Access username and password to your Canvas Parent Observer account. We have also built a Canvas course for parents to learn how to use this great instructional tool.