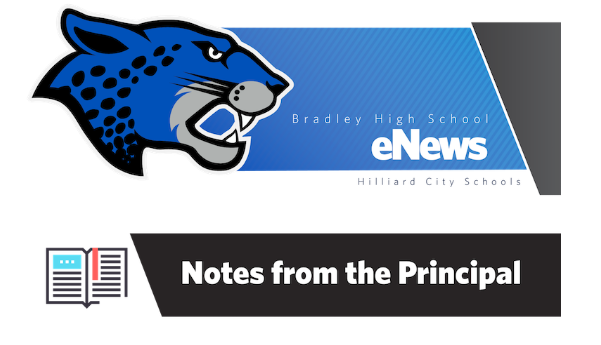 Good Afternoon Jag Families,
I would like to begin by thanking the United States Air Force for coming in to speak to our students during Career Exploration Day. Over 60 of our students had the opportunity to listen and talk to a panel of young Air men/women who presented about Air Space, Finance, Cyber security and MORE!
Senior parents, next Tuesday, we will have a senior meeting in the PAC to discuss our plans for their final months here at Bradley High School. Please remember to submit a baby picture for your senior. The photos will be used for our end of year slideshow. You can submit the photo using the following link. Senior Photo and Gratitude Video ProjectLinks to an external site.
On Tuesday, March 28th, we will be administering the (ELA) English Language Arts – Part 1 & 2 End-of-Course Assessment. Test takers need to arrive at normal time. Similar to a traditional school day, breakfast will be available in the morning for test takers.  Non-Testers will have a DELAYED start. Lunch starts at 11:40 a.m. and regular classes start at 12 p.m.
Have a great weekend and Go Jags!

Yearbook
Go to the Bradley Yearbook website or use this link to purchase a Bradley High School yearbook.
Graduation Information
Do you still need to order your cap & gown???
There are 2 EASY ORDERING OPTIONS:
ONLINE: WWW.JOSTENS.COM
PHONE:  1-800-JOSTENS (567-8367)

Hello Bradley families!  Thank you for your continued support to the PTO.  We have our next meeting this coming Tuesday, March 21 at 5 pm.  We hope to see some of you there.  Check out the spirit wear info on the PTO webpage.  Follow us on social media for more spring updates:
Facebook: Hilliard Bradley High School PTO
Instagram: hbhs_pto
Twitter: @HBHS_PTO

In order for athletes to participate, all of the following must take place.  **Physicals must be updated prior to participation.  Upload two forms from the physical — Physical Exam Form and Medical Eligibility Form — to the parent's Final Forms account (paper physicals will not be accepted).  **Both athlete and a parent/guardian must sign all forms in Final Forms.  **Participation Fees may be paid beginning March 1 and must be paid prior to the first competition through your MyPaymentsPlus account (check or cash will not be accepted).  All athletes, including free or reduced lunch, must complete the payment process through MyPaymentsPlus.  Free or reduced lunch must check out through MyPaymentsPlus by paying half (reduced lunch) or $0 (free lunch) payment.  Fees must be paid prior to the first competition.  ATHLETES MAY NOT PARTICIPATE IN THE COMPETITIVE SEASON UNTIL ALL OF THE ABOVE IS COMPLETED.

Hilliard Bradley Theater Presents… PIPPIN
Save the dates and join us for the final production in our season April 21-23!

March 31 – April 7 – No School
May 2 – No School
May 25 – Bradley High School Graduation
May 26 – Last day of school

We are Hilliard, This Weekend
Please join us TOMORROW for the first ever We Are Hilliard celebration.  Hilliard City Schools and the Hilliard Arts Council are hosting the community event on Saturday, March 18th, from 10 am – 3 pm at Hilliard Heritage Middle School.  There will be musical performances, food options, and fun activities for the kids.
High School Hack-a-Thon
Hilliard Schools and The Ohio State University present the Hack-a-thon – High.School:I/O. This event will take place on Saturday, March 25 at the Hilliard Innovation Hub from 9 AM – 8 PM.
The High School I/O is Ohio State's hackathon for high schoolers. Student will meet people, learn tech skills, and build innovative projects. No Coding Skills Necessary. Attendance is Free! Food provided!
Learn Computer Science
Win Prizes + Free Swag
Network with Professionals
Looks Great on College Apps
Register today as seats are limited – https://hack.osu.edu/hs/2023/
K-5 English Language Arts Curriculum Resource: Parent and Community Preview
The Hilliard City School District is in the process of adopting a new K-5 English Language Arts resource called Wit & Wisdom. This week, the Board of Education was presented this resource.  During the next two weeks, the Board of Education, parents, and the community will have the opportunity to preview this new resource. We invite all families and the community to preview Wit and Wisdom and click here to use the Feedback Form to provide feedback. Clicking on this link will provide an overview for our families. A sample display of the curriculum resource by grade level will also be available at Central Office on March 13-17 and 20-24. Visitors may come in person to preview the samples between the hours of 9:00am-11:00am and 2:00-4:00pm.
Training for Parents, Caregivers, and Families on the Mental Health ofChildren
The Administration for Children and Families (ACF) and Substance Abuse and Mental Health Services Administration (SAMHSA) are offering virtual training for parents, caregivers, and families on the mental health needs of children!
ACF and SAMHSA are both committed to improving behavioral health (mental health and substance use) for children, youth, and families. As part of our agencies' ongoing behavioral health efforts, this March 22nd training aims to provide parents and caregivers with the information and resources to recognize, manage, and support their children's mental health needs.
Click here to register and learn more.