HILLIARD BRADLEY HIGH SCHOOL
Monday, October 2, 2023
IN THE NEWS
Hilliard Purple Star Scholarship Raffle:
  All proceeds will fund annual scholarships for students of active military and veteran families at each of the Purple Star Hilliard High Schools.  Enter to win authentic theater-style seats from the Ohio State Stadium, removed from Suite Level, summer of 2022.  To enter to win, scan this QR code.  Drawing will be held on January 26 during the Bradley-Davidson Basketball game.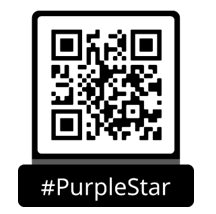 Student Parking at Bradley High School- several of you completed the google docs to register your car, but have not completed the final step of stopping in the Main Office to pick up your car tag.  Please do so as soon as possible.
The Girl's Golf team is holding an OSU vs. Minnesota ticket raffle, through November 8.
2 tickets;  Section 23AA, Row 3, Seats 22-23.
Visit https://tinyurl.com/OSUvMINN to purchase your raffle tickets or scan the QR code.  Every little bit will help the girl's golf team continue to build on the success the girls have accomplished over the last 2 years.  The Sectional Tournament will be held October 3 @ Oakhaven Golf Course; Bradley is going in with a drop in the team score of over 50 strokes.  The team has seen remarkable improvement.  Please consider supporting the team by purchasing raffle tickets.  Thank you.  Coach West-McLinn
A couple of reminders:
– NO Food deliveries:  Reminder that no food deliveries are allowed during the school day.
-Riding a bus with a friend:  At this time, transportation is not allowing extra riders this year on our buses due to capacity.
-NO Change or Vending Machine refunds:  The office does not have change or refunds.  For refunds, you will need to call the number on the machine.
GUIDANCE OFFICE-STUDENT SERVICES
Remember to use the QR code if you need to see your guidance counselor.
Job opportunities:  There are several job postings right inside the Student Services (Guidance) Office. 
Columbus Suburban College Fair
Sunday, October 8, 2023 1:00 – 3:30pm
Clements Center, Otterbein University
180 Center Street
Westerville, Ohio 43081
Hundreds of college tables arranged in alphabetical order.
More information at www.oacac.org
College Vists:
Attention juniors and seniors!  We have started to schedule visits with college representatives here at Bradley.  Please use your Schoolinks account to view the full schedule of colleges and their times and sign up for visits.
Here are the visits in the next couple of weeks:
***Update: All college visits are now meeting in the Media Center.  Please report directly to the Media Center if you are joining the college visit.***
October 4-         University of Mount Union- 8:00am
Kenyon College- 9:30am
Indiana Institute of Technology- 11:00am
October 6-        Valparaiso University- 8:00am
October 9-        Stevens Institute of Technology- 8:00am
University of Louisville- 11:00am
October 10-      Virginia Tech- 9:30am
University of Vermont- 11:00am
October 16-      Oberlin College- 8:00am
October 18-      Ashland University- 8:00am
October 19-      George Mason University- 11:00am
October 25-      Point Park University- 9:30am
CLUB ANNOUNCEMENTS
Bradley Faith meets every Monday at 2:35 in B276.
Interact Club – A Service & Volunteerism Club – Meeting at 2:40 – 3:10 PM in C285 (Lecture Hall).
Here are the dates of the meetings: Thursdays on 10/5, 10/19, 11/2, 11/16 & 12/7. Meetings are open to any Bradley student and can be joined at any time throughout the year. Please email pam_worth@hboe.org with questions. Hope to see you soon!
Key Club – Become part of an international service organization.
Meetings are the 1st and 3rd Mondays of each month.
10/2
10/16
11/6
11/20
12/4
12/18
Unicef Club – Advocate, educate, and fundraise for children around the world who face challenges to survive, go to school, and escape conflict or disasters.
Meetings are the 2nd and 4th Tuesdays of each month.
10/10
10/24
11/14
11/28
12/12
Art Club – Meets every other Tuesday, in room C104, after school until 3:30.
All are welcome.
10/3
10/17
10/31
11/14
11/28
12/12
ATHLETIC EVENTS
Are you a Freshman, Sophomore or Junior girl interested in joining the golf team for the 2024 season?  Then Coach West would like to connect with you.  Joining the golf team helps you earn a graduation Student Engagement Seal; and fulfills the Physical Education graduation requirement.  But in addition to that, golf teaches self-confidence, improves the ability to work with numbers, and applies problem-solving skills.  But wait there's even more, golf promotes grit, and physical and mental endurance.  All of that wrapped in a package of fun, new friendships and life-long connections.  All skill levels are welcome (beginner to experienced); all you need is a willingness to learn.  The 2024 season begins July 29, 2024 so let me know that you are interested by accessing the survey link:
https://forms.gle/BwV93JWcgo6oK3ga9.  I guarantee you won't regret your decision.  Email Coach West if you have any questions at Jayne_west-mclinn@hboe.org.