Bradley eNews – September 3, 2021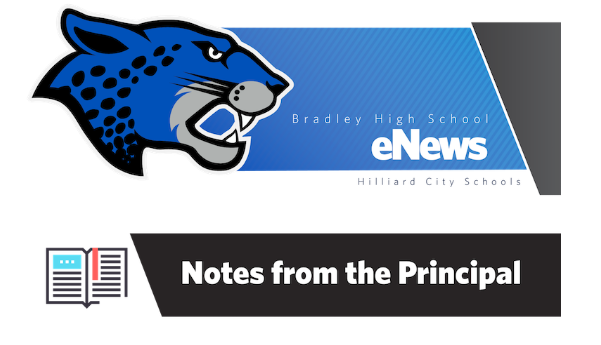 Good Afternoon Jaguar Families,
It was another good week here at Bradley High School. Our students are getting settled in and doing a great job in their classes.
I would like to recognize our acapella group Shades of Blue. Shades of Blue's single "exile" was selected for an international compilation album called "Voices Only." They were selected amongst some of the best high school and college a cappella groups in the country for this honor. Congratulations on this wonderful accomplishment!
As we get into the swing of things academically, we want to remind families to use Home Access Center (HAC) for the definitive source for student grades. Canvas is great for some scores and individual assignment feedback but HAC should be used for final scores and Grading Period grades.
Next Thursday, we will be holding a club fair during lunch periods. Bradley High School has over 20 different clubs that students have the ability to get involved in during their time here in our building. Please talk to your students about finding a club and getting involved.
The building will be closed on Monday in celebration of Labor Day. Enjoy the holiday and we will see your children bright and early on Tuesday morning.
Beginning Tuesday, September 7, all students, staff, and visitors in all of our schools will be required to wear masks when inside our school buildings. Every safety measure we take now is to keep our students in school five days a week.  Individuals who are wearing masks are significantly less likely to be required to quarantine.  We feel this step is necessary in order to do everything possible not only to keep our students in school but also to slow the number of positive cases in our schools.
Have a great weekend and Go Jags!!!

How You Can Help Support our PTO
Follow us on Twitter, Facebook and Instagram @HBHS_PTO
Support our Spirit Night fundraisers at local restaurants
Make a donation (cash, checks, credit cards accepted)

ATTENDANCE AT A GLANCE
Easiest and fastest way to report an absence:
SchoolMessenger App (When you sign up, you will need to use your email used in Home Access Center.)
SchoolMessenger App is available 24/7 right up until 12:00 pm on the day of the absence.
SchoolMessenger allows you to report a full day, leave and return, and early dismissals.
What to use if it is after the cut-off time the day of the absence:
Once the attendance office has received notification of an early dismissal, your child will be sent a pass to show their teacher.
Upon release from class, your child will sign out in the attendance office and meet you in your car, or drive themselves to their appointment or home.
No need to even get out of your car.

Bradley Intramurals
The intramural program is an opportunity for students to compete in unique sports in a pressure free environment against their friends and teachers. Participating in intramural sports helps students maintain and develop healthy physical and mental habits through physical exercise. All students and staff members are welcome to participate in these fun, safe and stress free activities. Please refer to your student's Intramural Sports Canvas course for more detailed information, or email Brad Gmerek at brad_gmerek@hboe.org.
For those students looking to take on a leadership role within the intramural program, we are looking to form a Student Advisory Committee, allowing students to help organize, facilitate and have a voice in sports that are offered. Interested students can contact Mr. Gmerek at brad_gmerek@hboe.org or stop in room B252 to see him!
E Pluribus Unum 
To support the understanding of our students' rich experiences, their successful navigation through the complexities of the world, we have created intentional opportunities for our young people from all communities to examine concepts of identity, empathy, and advocacy, as well as consider the positive power of inclusion so that everyone has a place and a voice at the table. Please consider having your young person participate in the opportunity of our student group, E Pluribus Unum. It is a valuable way for our students to reflect our national ideal of Out of Many, One. Please click THIS LINK to learn more about this learning opportunity and to access the permission slip to participate. 
Monday, September 6 – Labor Day – NO SCHOOL
Wednesday, September 15 – Open House 6:00 pm
Wednesday, September 29 – Jostens Representatives (10th Class Rings) (12th Cap & Gown)

Voluntary Vaccination Reporting
Hilliard City Schools is committed to taking the recommended and necessary measures to protect our students and staff from contracting and spreading COVID-19. 
If you have decided to have your student receive the COVID-19vaccination, which we encourage you to do for your safety and the safety of others, we ask that you voluntarily provide a copy of your CDC-issued vaccination card. While this is purely voluntary, electing to provide us with your vaccination card will assist in determining when and under what circumstances quarantining must occur if your student is in close contact with a positive case.
The vaccination card details and information will be kept with our nurses and in student medical files. It will only be disclosed and used by our contact tracing team.