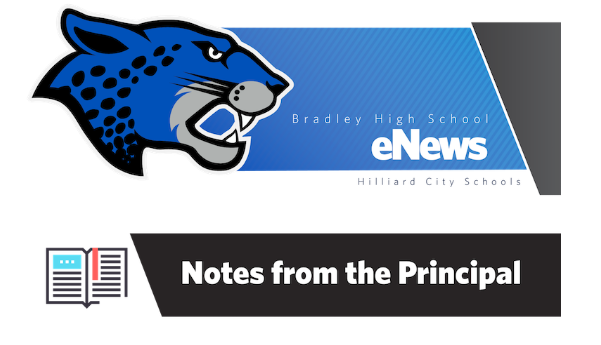 Good Afternoon Jaguar Families,
Homecoming is here! Tonight's homecoming game against Upper Arlington High School starts at 7:00 p.m. The homecoming dance is tomorrow, September 24th, from 7:00 to 10:00 p.m on the football field. Students, please remember to download your ticket and bring a picture ID.
I ask all of you to please talk to your sons/daughters about drinking. Many students may be asked to attend parties before and after the dance. If your child is attending a party, please make sure there will be parent supervision and that there is no drinking. A simple phone call can save a life. We want all of our students to have a great weekend, and it's critical that everyone remains safe.
This past Saturday, the Bradley Marching Band competed in the Bands of America Regional Championship held at Fortress Obetz. The competition consisted of 23 bands from around Ohio, Indiana, and Kentucky. Bradley was one of the 12 bands that scored high enough in prelims to be named a Finalist, and ended up finishing 8th in Finals.
This was the 5th time Bradley has competed in a Bands of America event, and the 3rd time they have advanced to finals.
Their next competition is Saturday, 10/1 at Tippecanoe High School in Tipp City.Congratulations to the students and staff of the Hilliard Bradley Marching Band.
Have a Great Weekend and Go Jags!!!

Senior Pictures due December 9th!
Seniors, plan when/where/how you are going to take your senior photos now! Go to the Bradley Yearbook website for a list of requirements and details about submission. The deadline to submit your senior photo to the yearbook is Friday, December 9th, 2022.

PSAT/NMSQT
Attention Juniors: Registration for the PSAT/NMSQT will begin on September 6 and close on September 23rd. The cost is $25 and you can register through MyPaymentsPlus. The PSAT/NMSQT will be held October 12 at each high school. This is the test that is used for the National Merit Scholarship Competition. It will also help prepare Juniors for the SAT which they will take in the spring.

Hilliard Bradley Theater Presents:
The 25th Annual Putnam County Spelling Bee
The 25th Annual Putnam County Spelling Bee (Rated PG-13) is a Tony Award winning musical by Rebecca Feldman, Rachel Sheinkin, and William Finn. The musical follows the story of 6 spellers at the Bee and the 3 adults that run it. We are absolutely THRILLED to be able to put on this hilariously funny and often touching production for you this October! Keep reading to see the cast list, which is filled with talented actors that are sure to amaze you.
Show Times:
October 7 @ 7:00 pm
October 8 @ 7:00 pm
October 9 @ 2:00 pm
$15.00 Adults
$10.00 Students/Seniors
Click This Link to Buy Tickets:
Local Level Events – Hilliard Bradley Theater Presents-25th Annual Putnam County Spelling Bee
The 25th Annual Putnam County Spelling Bee Cast List
Rona Lisa Peretti: Annabelle Brock
Vice Principal Panch: Julian Perez
Mitch Mahoney: Jay Phillips
Olive Ostrovsky: Piper Brill
William Barfee: Kyle Metzler
Marcy Park: Abbey Bialek
Chip Tolentino: James Goodwin

Saturday, September 24 – Homecoming Dance
Wednesday, September 28 – Jostens Representative During Lunch Periods (10th Class Rings) (12th Cap & Gown)

Community Design Committee Application
Hilliard City Schools is actively engaging the community in defining what Ready for Tomorrow means.  This will be a collective vision that articulates our community's aspirations for all our students.  Once this is complete, we will develop a strategic plan and a roadmap to help our schools make the vision come to life in our classrooms.   To learn more and apply, click here to get to our web page.
Embrace, Empower, Inspire Award Winners
Each month we recognize staff members who go above and beyond the expectations of the Hilliard Way and truly make a difference in our district. You can find our latest winners by clicking here.  And if you know a staff member that goes above and beyond their way to make a difference, you can nominate them for next month's award on the web page.