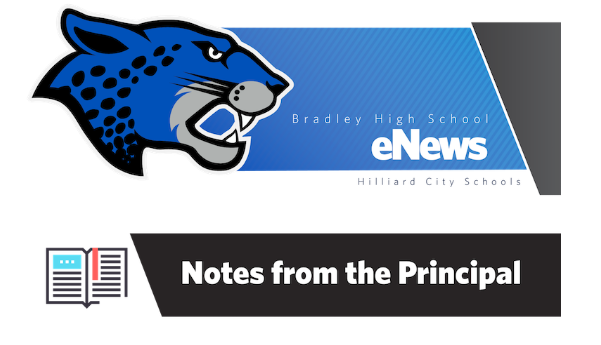 Good Afternoon Jaguar Families,
Starting Monday, September 25th, we have a host of activities planned for Spirit Week and Homecoming. We encourage all of our students to participate in these events as we get ready for Friday's outdoor pep rally and football game against Hilliard Davidson High School.
Homecoming week will culminate with our Homecoming Dance, "Light Up The Night", that will be held on Saturday, September 30th, from 7:30pm to 10pm on the football field. Tickets are $20 for current Hilliard Bradley High School students and $25 for a guest.  Non-Bradley guests must either be a current Hilliard City Schools student (Darby or Davidson) or a graduate of Hilliard Bradley High School under the age of 21.  No guests outside of the district are permitted. Tickets can be purchased through Local Level Events or follow this link: Homecoming Dance Tickets.
Spirit Week Themes: Monday - PJ Day, Tuesday – Barbie vs. Oppenheimer, Wednesday – Class Colors Day, Thursday - Anything but a Backpack – students are asked to abide by TSA rules, Friday - NEON Day.
Please know that we are here to partner with you to ensure a successful school year for you and your student(s). If you ever have any questions or need to contact us, feel free to call the school at 614-921-7400. We are eager to assist you.
Have a great weekend! Go Jags!!!

Advanced Placement (AP)
Parents & guardians of students taking an Advanced Placement (AP) course – you will receive in the mail this week a letter with information on how to register your student for an AP exam(s). MyPaymentsPlus will open on September 25. Feel free to contact Jessica Buscemi, School Counselor, with any questions! Cash/check is also accepted in guidance until October 27.
ASVAB
Hilliard Bradley will be hosting a Career Opportunity ASVAB Testing day on Tuesday, October 3, during 1st – 4th periods. This event will give students who are interested an opportunity to explore career options. Sign up here ASVAB Test Sign up
"The ASVAB is a standardized test that reveals areas of strength and ability in science, math, and language. Taking the test is one of the first steps before you explore your future."
If your student has questions or would like more information, please have them stop by the Media Center and see Ms. Ysseldyke.
Picture Retake / Absent
If your student was absent on picture day or would like a retake of their original day picture, HR Imaging will be at Bradley on Tuesday, October 10th.  If your student received a picture package and would like a retake, please have them bring their package on this day to give to the photographer.
PSAT
On October 24, each high school will operate on an adjusted schedule for the administration of the PSAT 10 to all sophomores and the administration of the PSAT/NMSQT to those juniors who have registered to take it. Both tests will be digital this school year.
The PSAT 10 measures readiness for college and prepares our sophomores to take the SAT during their junior year. It also connects students with scholarship opportunities and shares Advanced Placement (AP) potential.
For participating juniors, the PSAT/NMSQT also prepares students for the SAT, but is different in that it is a National Merit Scholarship Qualifying Test for the National Merit Scholarship Competition.
There is additional information for families on the College Board website:www.collegeboard.org.
Technology Protection Plan (TPP)
The Technology Protection Plan (TPP) is still available for purchase. However, the iPad must now be inspected for damage before payment can be accepted. You may send payment, via check or cash, with your student and have them stop in the main office or the media center to begin this process.

Homecoming
Hilliard Bradley High School is excited to "Light Up the Night" for 2023 Homecoming Saturday September 30th.
"What time is the dance?"  The dance will run from 7:30pm to 10:00pm.
"Where will the dance be held?"  It is currently scheduled to be held in the stadium on the field but will be relocated to the field house if weather does not permit us to be outside.  Students will enter the dance through the guest entrance found on the backside of the stadium.
"How much are tickets?"  $20 for current Hilliard Bradley High School students and $25 for a guest.  Tickets are purchased electronically through Local Level Events by searching for events in the 43026 zip code or by following this link: https://www.locallevelevents.com/events/details/28537
"What if my student wants to bring a non-Bradley guest?"  Non-Bradley guests must either be a current Hilliard City Schools student (Darby or Davidson) or a graduate of Hilliard Bradley High School under the age of 21.  No guests outside of the district are permitted.
IMPORTANT NOTE FOR DARBY & DAVIDSON GUESTS: Permission slips must be signed and turned in to the front office by Friday September 29th.  These permission slips must be signed by a Darby or Davidson administrator so please plan accordingly.  Permission slips can be printed from the Local Level Events page for Hilliard Bradley Homecoming or printed copies can be picked up in the front office.
"Do students have to follow the theme?"  Not at all!  The theme is for decoration, but neon attire is always welcome.  We want students to dress up however makes them feel comfortable!

Mark your calendars…
GREASE
is coming to the Bradley Stage
Dust off those leather jackets!
We're back to brighten up your inbox with some GREAT news: Bradley Theater's production of Grease will be showing sooner than you think— and you DON'T want to miss it…
Join us October 6th at 7pm and October 7th at 2pm and 7pm to be transported to a whole new world of juke box jigs and dance floor drama!
Madison Sheard, our light board operator, shares that she's "so excited to be branching out from acting and trying something new with tech! [She has] some experience with costumes, but [her] knowledge has simply ascended with this Greased Lightin'!
Follow our socials!
Facebook: bradleytheater Twitter: bradleytheater Instagram: bradley_theater TikTok: bradley_theater_7415

September 27 – Jostens Class Ring / Cap & Gown information
September 29/30 – Homecoming
October 10 – Picture Retake Day
October 20 – No School
November 22 – 24 – No School

ISPTO Meet the School Board Candidates
The ISPTO is hosting a Meet the School Board Candidates night on September 26 in the Darby PAC. It begins promptly at 6:30 pm. All candidates running are participating. In addition to the questions curated by the ISPTO, you will be able to submit questions. All questions will be screened for redundancy and appropriateness. All candidates will answer each question.  The deadline to register to vote in the November 7, 2023 election is October 10, 2023. You can click here for more information from the Franklin County Board of Elections.
Where to find your Student's Grades
Although many scores for student work can be found in Canvas, we want to remind families to use Home Access Center as the definitive source for student grades. Canvas is great for some scores and individual assignment feedback, but HAC should be used for final scores and Grading Period grades. To monitor daily classwork grades, look at the Classes tab.
Learn More: Tutorials for HomeAccess
iPad Setup Help
We recognize that students and families may be overwhelmed by our integration of technology into teaching and learning. With that in mind, we have created our iPad set-up webpage. This page has many great resources on how to set up various apps on the iPad as well as some basic How-to's of common tasks in the classroom.
Learn More – www.hilliardschools.org/ipadsetup
Portrait of a Learner Video Series
Developing the district's Portrait of a Learner has been the first step in Hilliard City Schools' strategic planning process. This will serve as our district's North Star in the years to come.  In an effort to share the Portrait with our community, we have developed a video series.  You can click here to watch local business leaders explain each competency in depth.