Bradley eNews – September 16, 2022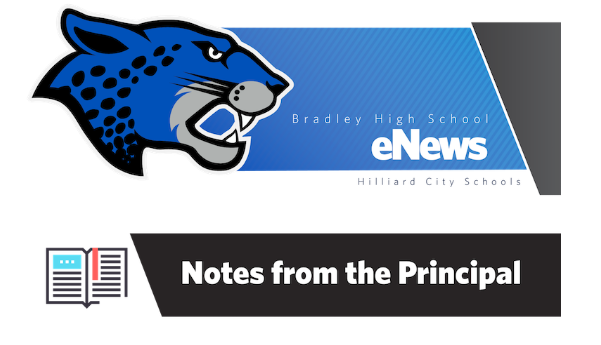 Good Afternoon,
I would like to thank everyone that had an opportunity to attend this past Wednesday's open house and senior parent meeting. It was great to have our families back in the building.
Starting Monday, September 19th, we have a host of activities planned for Spirit Week and Homecoming. We encourage all of our students to participate in these events as we get ready for Friday's outdoor pep rally and football game against Upper Arlington High School.
Spirit Week Themes: Monday – PJ/Comfy Day, Tuesday – Jersey Day, Wednesday – Class Colors,Thursday – Beach Day, Friday – Tie-Dye/Neon
Homecoming week will culminate with our Homecoming Dance, "Neon Lights", that will be held on Saturday, September 24th from 7pm to 10pm on the football field.  Tickets are $15.00 each and can be purchased through Local Level Events or follow this link: Homecoming Dance Tickets.
Please know that we are here to partner with you to ensure a successful school year for you and your student(s).   If you ever have any questions or need to contact us, feel free to call the school at 614-921-7400. We are eager to assist you.
Go Jags!!!

Senior Pictures due December 9th!
Seniors, plan when/where/how you are going to take your senior photos now! Go to the Bradley Yearbook website for a list of requirements and details about submission. The deadline to submit your senior photo to the yearbook is Friday, December 9th, 2022.

Hello Bradley families!  Our next PTO meeting will be on Tuesday, September 20 at 5pm in the Bradley media center.  We hope to see some new faces!!  We will also be at the Homecoming game selling a larger stock of parent, grandparent, and jaguar shirts!  Have a great weekend!

PSAT/NMSQT
Attention Juniors: Registration for the PSAT/NMSQT will begin on September 6 and close on September 23rd. The cost is $25 and you can register through MyPaymentsPlus. The PSAT/NMSQT will be held October 12 at each high school. This is the test that is used for the National Merit Scholarship Competition. It will also help prepare Juniors for the SAT which they will take in the spring.

Hilliard Bradley Theater Presents:
The 25th Annual Putnam County Spelling Bee
The 25th Annual Putnam County Spelling Bee (Rated PG-13) is a Tony Award winning musical by Rebecca Feldman, Rachel Sheinkin, and William Finn. The musical follows the story of 6 spellers at the Bee and the 3 adults that run it. We are absolutely THRILLED to be able to put on this hilariously funny and often touching production for you this October! Keep reading to see the cast list, which is filled with talented actors that are sure to amaze you.
Show Times:
October 7 @ 7:00 pm
October 8 @ 7:00 pm
October 9 @ 2:00 pm
$15.00 Adults
$10.00 Students/Seniors
Click This Link to Buy Tickets:
Local Level Events – Hilliard Bradley Theater Presents-25th Annual Putnam County Spelling Bee
The 25th Annual Putnam County Spelling Bee Cast List
Rona Lisa Peretti: Annabelle Brock
Vice Principal Panch: Julian Perez
Mitch Mahoney: Jay Phillips
Olive Ostrovsky: Piper Brill
William Barfee: Kyle Metzler
Marcy Park: Abbey Bialek
Chip Tolentino: James Goodwin

Saturday, September 24 – Homecoming Dance
Wednesday, September 28 – Jostens Representative During Lunch Periods (10th Class Rings) (12th Cap & Gown)

Girls Tech Day
Save the date for Girls' Tech Day.  The AWS event is back for our 5th through 8th Grade Hilliard girl's and other Central Ohio students. Registration is coming soon with limited seats.  The event will take place on October 21, 2022, from 9 am to 1:30 pm.
Treasurer's Office Wins Award
The Association of School Business Officials International is proud to recognize the Hilliard City School Treasurer and staff for excellence in budget presentation with the Meritorious Budget Award (MBA) for fiscal year 2022–2023. This award reflects the District's commitment to sound fiscal management and budgetary policies.  You can read more on our web page.
Parent Help with Home Access Center
Home Access Center Gradebook – Although many scores for student work can be found in Canvas, we want to remind families to use Home Access Center as the definitive source for student grades. Canvas is great for some scores and individual assignment feedback, but HAC should be used for final scores and Grading Period grades. To monitor students' daily classwork grades, look at the Classes tab.   You can learn more by clicking here.