Bradley eNews – September 16-20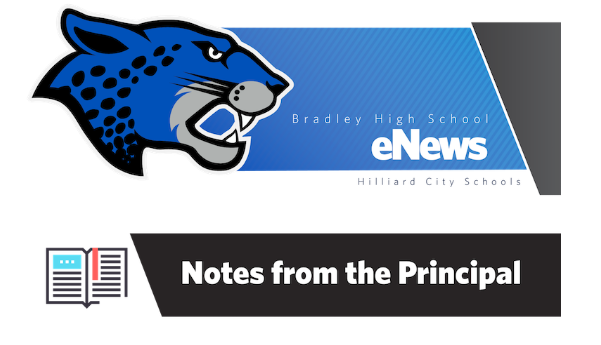 WHAT'S HAPPENING AT BRADLEY
September 19  Out of State College Meeting @ 6:30 p.m. @ Bradley
September 25   Powder Puff Football Game @ 7 p.m.
September 27   Homecoming Parade @ 5:30 p.m.
September 28   Homecoming Dance 
September 28    Discover HCS   REGISTER HERE
CLICK HERE to view our Bradley calendar for all events.

SCHOOL COUNSELOR INFORMATION
Check out our School Counseling WEBSITE HERE.
On this site, you will find information on how to schedule a time to see your School Counselor and also see lots of college information.  Seniors – you will also be able to stay up to date on scholarships and other graduation information as they become available.
Suicide Awareness Month
September is Suicide Awareness Month.  We want to express the importance of communication about mental health and eliminate the stigma that has surrounded this for years. In an effort to help educate our families we have put several resources on the district web page for when a friend, child or neighbor needs help.
SENIORS – CLASS OF 2020
COLLEGE INFORMATION
Many of you have already started the process of applying to college.  Use THIS LINK for information on important dates and college rep visits to Bradley.
SENIOR PICTURES
Senior picture submissions are being accepted NOW for the 2019-2020 Yearbook! The deadline for submissions is Friday, December 13th, 2019, but why wait? Upload your senior photo NOW by going to our Bradley Yearbook website at http://is.gd/hbyearbook and filling out the google form linked under the "Senior Pictures" tab. The sooner the better!
If you want to purchase a yearbook for the 2019/2020 school year, go to  www.jostensyearbooks.com.

A MESSAGE FROM OUR PTO
DID YOU KNOW:  Bradley has a PTO?  It does…and we need your help!  The PTO is fueled by fundraisers, donations and service hours, all essential to helping us provide student scholarships, teacher conference meals, our monthly free Cookie Days for students, and so much more.
CLICK HERE to check out current fundraisers (Texas Roadhouse Rolls and Cinnamon Butter, anyone?!) and giving opportunities, so you can help us support the students and teachers in their ongoing efforts  Every donation, new idea, and helping hand, however big or small, is welcomed and appreciated!

State Report Card Released
 Today the Ohio Department of Education released the State Report Cards.  The Hilliard City Schools received an overall B for this year.  This is the second year schools and districts were assigned an overall letter grade.   "The Hilliard City School District utilizes the State Report Card as one, of many, data points we consider to measure our progress as a district." Said Dr. John Marschhausen, Hilliard Superintendent.  You can read more about the Hilliard report card on our web page.
 Registration Open for Discover HCS – A Parent University
You can now look at our entire course catalog for Discover HCS taking place on September 28 at Darby High School.  Sessions run from 8 am until 12:30 pm.  You can discover more about creating a healthy tech/life balance, how to raise an adult, elementary Reading and Math, design thinking and the gift of failure.  Our keynote for the day is Dr. Lisa Hinkelman, Founder and CEO of ROX.  Her session is, "A Confidence Crisis: What 10,678 Girls Think about Stress, Social Media, School and Their Futures."
Please be sure to register early, as we expect sessions to fill fast.
Facilities for Tomorrow Conference – Save the Date
Please make plans to join us as we kick off our Master Facility Plan on October 20 at Darby High School for a community Facilities for Tomorrow Conference.  This night will be an open meeting to get our community actively engaged in the master planning process. We will have a short presentation of current and future trends in education, and small group discussions for you to share your vision of what a Hilliard education should look like in the future.
Please save the date now; more details will come soon.
Girls Tech Day
Hilliard City Schools will host a Girls' Tech Day in collaboration with Amazon Web Services on October 19th at Hilliard Bradley High School. Learn more here. Registration will be open soon, and there is an opportunity for adults to volunteer. This event is open to Hilliard residents and other communities.
Girls' Tech Day is a one-day event designed to inspire and empower young girls from grades 3 to 12, and young women 18 to 24 years of age, to pursue interests and careers in technology.  It is a series of learning workshops focused on science, technology, engineering, art, and mathematics (STEAM).
Treasurer's Office Wins Award
For the 14th year in a row the Association of School Business Officials International has recognized the Hilliard City School District for excellence in budget presentation with the Meritorious Budget Award (MBA) for the 2019–2020 budget year. ASBO International's MBA and Pathway to the MBA promote and recognize best budget presentation practices in school districts.
State of the Schools – Save the Date
We would like to invite you to Dr. Marschhausen's sixth State of the Schools address on Thursday, October 24, 2019.  This year we will hold the event at Heritage Golf Club at 6:00pm.  We will have more details soon, but we hope you make plans now to attend.