Bradley eNews – September 10, 2021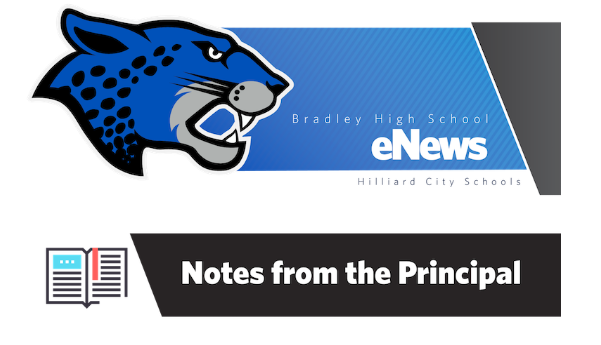 Good Afternoon Jaguar Families,
It was another great week here at Bradley High School. We continued to be impressed with the work our students and staff are doing inside and outside of the classroom.
I would like to thank Assistant Principal Mr. Walton and our staff for putting together a successful Club Fair this week during our lunch periods. It was great to see our students and staff working together to increase involvement in the many school clubs and activities that we have to offer here at Bradley.
Make sure to use Home Access Center (HAC) for the definitive source for student grades. This is a good time to emphasize your expectations for your students to ensure they have a positive start to the school year.
Please know that we are here to partner with you to ensure a successful school year for you and your student(s).   If you ever have any questions or need to contact us, feel free to call the school at 614-921-7400. We are eager to assist you.
Thank you for your continued support.  Have a great weekend and Go Jags!!!

On sale now! Order your Proud to be a Bradley Jaguar Mom, Dad, or Grandparent shirt, a Bradley 2022 Senior shirt, or a Proud to be a Bradley Jaguar shirt now through September 29!
Bradley PTO has partnered with Hilliard's own Powell Prints to offer these exclusive designs in a variety of styles for both men and women including short- and long-sleeve tees, sweatshirts and hoodies.
Shop now at https://bradleypto.itemorder.com/  Hurry! Sale ends 11:59 p.m. September 29!
Join us on Tuesday, September 14 at 7:00 p.m. in the Bradley Media Center for our next PTO meeting. All parents are welcome to attend.  Masks are required.
Mark your calendars for Tuesday, September 21 for a Bradley PTO Spirit Night fundraiser at McAlister's Deli located on Hilliard Rome Road.
Have questions? Send an email to HilliardBradleyPTO@gmail.com.

ATTENDANCE AT A GLANCE
Easiest and fastest way to report an absence:
SchoolMessenger App (When you sign up, you will need to use your email used in Home Access Center.)
SchoolMessenger App is available 24/7 right up until 12:00 pm on the day of the absence.
SchoolMessenger allows you to report a full day, leave and return, and early dismissals.
What to use if it is after the cut-off time the day of the absence:
Once the attendance office has received notification of an early dismissal, your child will be sent a pass to show their teacher.
Upon release from class, your child will sign out in the attendance office and meet you in your car, or drive themselves to their appointment or home.
No need to even get out of your car!
These two procedures work best, as visitors (parents), are not allowed in the building unless they have an appointment.
For more information about the SchoolMessenger App, please visit the Hilliard City Schools website and go to parents>attendance.
GO JAGS!
Counselor News – September 2021
September is a great time to start to work on your common application process.  Colleges are coming to Bradley to talk about their schools.  Please sign up through Naviance, you will find the dates and time of their visits.  The school counselor web site has a link on how to complete the common application process, check it out.
September is, National Suicide Prevention Month
We can all help prevent suicide. Every year, the Lifeline and other mental health organizations and individuals across the U.S. and around the world raise awareness of suicide prevention during September, National Suicide Prevention Month.
Please visit the school counselor web page for many updates and information about many of the wonderful programs offered here at Bradley.
https://www.hilliardschools.org/hbr/guidance/
Attention College-Bound Juniors
The PSAT test will be administered at Bradley on Wednesday, October 13 from 7:40-11:00am.  This is a great opportunity for you to practice for the SAT (which all juniors will take for free at Bradley in the spring) and provides an opportunity for juniors to qualify for the National Merit Scholarship Competition.  The cost is $24 and registration is open September 6th through the 24th.  Sign up and pay through MyPaymentsPlus.
College Visits
Attention juniors and seniors!  We have started to schedule visits with college representatives here at Bradley.  Please use your Naviance account to view the schedule of colleges and sign up for visits.
Letter From our Social Workers
Dear Bradley Families,
As we start our new school year, we recognize there is a lot of uncertainty and change that is still happening that can make it hard for both students and families. We are here to help support you through these difficult times. This year at Bradley High School, we have two new School Social Workers that will be working to support you and your family!
Our goal is to help you feel safe, establish healthy routines, manage emotions, and continue to learn, grow, and be ready for tomorrow! If your student needs extra support, please feel free to reach out to their teachers, their counselors, or the mental health clinicians. We will all work together to support your student and get them the help they need.
In addition to in-school resources, please reference the school counseling website for more information including contact information and useful resources. We are so excited to begin this school year with all of you and we had such a great time getting to meet your students!
Best,
Mirranda Glaskox, M.Ed, LPC (Last names A – K)
Email: mirranda_glaskox@hboe.org
Phone: 614 – 921 – 7447
Briona Burgos, MSSA, LSW (Last names L – Z)
Email: briona_burgos@hboe.org
Phone: 614 – 921 – 7412
Web link: https://www.hilliardschools.org/hbr/guidance/
Go Jags!
​​​​​​​

Bradley Intramurals
The intramural program is an opportunity for students to compete in unique sports in a pressure free environment against their friends and teachers. Participating in intramural sports helps students maintain and develop healthy physical and mental habits through physical exercise. All students and staff members are welcome to participate in these fun, safe and stress free activities. Please refer to your student's Intramural Sports Canvas course for more detailed information, or email Brad Gmerek at brad_gmerek@hboe.org.
For those students looking to take on a leadership role within the intramural program, we are looking to form a Student Advisory Committee, allowing students to help organize, facilitate and have a voice in sports that are offered. Interested students can contact Mr. Gmerek at brad_gmerek@hboe.org or stop in room B252 to see him!
E Pluribus Unum
To support the understanding of our students' rich experiences, their successful navigation through the complexities of the world, we have created intentional opportunities for our young people from all communities to examine concepts of identity, empathy, and advocacy, as well as consider the positive power of inclusion so that everyone has a place and a voice at the table. Please consider having your young person participate in the opportunity of our student group, E Pluribus Unum. It is a valuable way for our students to reflect our national ideal of Out of Many, One. Please click THIS LINK to learn more about this learning opportunity and to access the permission slip to participate.
Wednesday, September 29 – Jostens Representatives (10th Class Rings) (12th Cap & Gown)
Saturday, October 2 – Homecoming Dance

When to Keep Students Home Sick
As we continue to navigate Covid-19 please remember there are key times we are asking you to keep your student home.  We have a simple chart to follow on our 21-22 web page under the Health and Safety Tab.  Here is a list of symptoms you should keep your child home if they have any of the following:
         Fever (100.4°F or higher)
         New or worsened cough
         Shortness of breath
         Loss of taste or smell
         Sore throat
         Diarrhea or vomiting
         New onset severe headache
*For children with chronic medical conditions (such as allergies, asthma or migraine), symptoms should represent a change from their usual health status.
For a complete look at the Franklin County Public Health Chart, please click this link.
Home Access Center Gradebook
Although many scores for student work can be found in Canvas we want to remind families to use Home Access Center for the definitive source for student grades. Canvas is great for some scores and individual assignment feedback but Home Access should be used for final scores and Grading Period grades. To monitor student daily classwork grades, look at the Classes tab.
You can learn more by clicking on this link: Viewing Classwork and MP Averages in HomeAccess.
Columbus Library Community Conversation
Each month, the Columbus Metropolitan Library is hosting book talks from their collection about race and social justice. Next up: on Wednesday, Sept. 22 from 2-3 p.m., they will continue the conversation with a virtual program focused on Brown Girl Dreaming by Jacqueline Woodson. The scheduled panelists include Corey Favor from Orange Barrel Media, Sophia Fifner from NiSource and the NiSource Charitable Foundation, Fran Frazier from Black Girl Rising, Inc. and Hilary Sloat from Hilliard City Schools. Donna Zuiderweg, the Chief Community Engagement Officer, will serve as moderator.
To register and learn more about the series, visit columbuslibrary.org/speak-up
Keep Hilliard Clean and Green
Keep Hilliard Clean and Green is hosting a little clean-up on September 18 from 10:30-11:30am.  You can park at the Bike Path Trailhead near the Civic and Cultural Arts Center on Market Street.  Wear good shoes and bring gardening gloves if you want.  Cleaning supplies will be provided.