Bradley eNews – October 8, 2021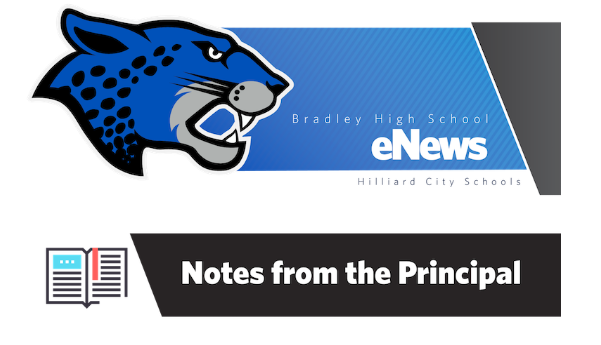 Good Afternoon Jaguar Families,
A we head into fall and the final week of the first quarter, I would like to emphasize the importance of staying focused on academics. Please take time to talk with your child to ensure that all assignments, assessments, projects, etc. are complete prior to the end of the quarter, Thursday, October 14th. Remember that you can look up your child's progress using Home Access at any time, so you never have to be in the dark about your child's academic status.
Congratulations to our own Aidan Hennes & Jaelyn Hopson, who are two of 34,000 Commended Students throughout the nation who are being recognized for their exceptional academic promise. Commended Students in the 2022 National Merit Scholarship Program placed among the top 50,000 students who entered the 2022 competition by taking the PSAT/NMSQT test in 2020. Those being named Commended Students have demonstrated outstanding potential for academic success! Congratulations!
This weekend, Hilliard Bradley Theater presents Steel Magnolias! Please come support our program and the wonderful students who have worked so hard on this production. Steel Magnolias tells the story of six Southern women from northwest Louisiana who meet up frequently at Truvy's beauty salon. Together, they bond over shared experiences and support each other through their greatest triumphs and darkest moments. The name Steel Magnolias perfectly reflects the six female characters in this Robert Harling classic: beautiful and delicate like a magnolia, but tough as steel. Steel Magnolias runs from October 8th through October 10th. Performances on Friday and Saturday are at 7pm, and Sunday's performance is at 2pm. Tickets can be purchased through Local Level. The link is on our website at www.bradleytheater.com
Have a great weekend and Go Jags!!!​​​​​​​

Support the PTO on Thursday, October 14 from 6:00-8:00 pm by picking up dinner at Wendy's (Roberts & Hilliard-Rome Rd). Wendy's will donate a portion of sales to support Bradley PTO.
Funds raised by PTO provide:
financial hardship assistance for students in need
a $1000 scholarship to a qualifying senior student
Meijer gift cards for students and their families in need during the holidays
meals for teachers during parent/teacher conferences
support and recognize Bradley 150 teachers and staff throughout the school year
Donations are always welcome and appreciated. Check out our PayPalGivingFund page at https://www.paypal.com/fundraiser/charity/1385135

Counselor News – October 2021
October is a great time to finish work on your common application process, remember that November 1 is a deadline for most colleges to receive financial aid.  Your application must be submitted by the November 1 deadline.  Colleges are coming to Bradley to talk about their schools.  Please sign up through Naviance, you will find the dates and time of their visits.  The school counselor web site has a link on how to complete the common application process, check it out.
Just a reminder that the PSAT will be given on Wednesday October 13th, starting at 7:30.
On October 28, all sophomore and junior students will attend the first-ever Hilliard City Schools Skilled Trades Expo.  In partnership with the Ohio Contractors Association, the Associated General Contractors of America, and the Building Trades Council, our students will learn about different career pathways through hands-on experiences. Hilliard buses will take students from their home school to the Franklin County Fairgrounds for the hour and a half experience.  Let's get "Ready for Tomorrow"
Attention AP Students and Parents:  It is time to register for AP Exams.  Taking these exams gives you the opportunity to earn college credit.  Do not miss out on this opportunity!  The registration window will be open September 27th – October 25th.  Please note you must pay the exam fee to complete the registration process.  Being registered on College Board does not order an exam.  Payment must be completed to complete the exam order.  The cost of each exam is $96.  If you completed the free/reduced lunch application and were approved, you qualify for a reduced fee of $53 per exam.  Credit card (preferred payment method), cash or check are accepted.  You can pay with a credit card online at MyPaymentsPlus.  If by check please make payable to Hilliard City Schools.  Payment is due in full by October 25th.  There will be a $40 late fee for any exam order after October 25th.  If you have any questions please see Mrs. Buscemi or Mrs. Wintrich in the guidance office or they can be reached at Jessica_Buscemi@hboe.org or Melinda_Wintrich@hboe.org.

Senior Pictures due December 10th!
Seniors, plan when/where/how you're going to take your senior photos now! Go to the Bradley Yearbook website for a list of requirements and details about submission. The deadline to submit your senior photo to the yearbook is Friday, December 10th, 2021.
Concessions Volunteers Needed
We Need You!!  Please consider volunteering to work concessions for our home events!  We have a few big weeks coming up and would love your support!  Winter sports is just around the corner and those events will soon be posted. To sign up visit the Fall/Bradley Memorial Sign up Genius page. Concessions profits go back directly to both music and sports programs.
https://www.signupgenius.com/go/10c0d44aeaa2fa3fdc07-fall1
Tuesday, October 12 – Picture Retake Day
Wednesday, October 13 – Parent/Teach Conferences (2:45 – 7:00)
Friday, October 15 – No School – COI Day
Tuesday, November 2 – No School – Professional Development Day
Tuesday, November 9 – Tolles presentation to Sophomore Class
Wednesday, November 24 – Friday, November 26 – No School