Bradley eNews: October 28, 2022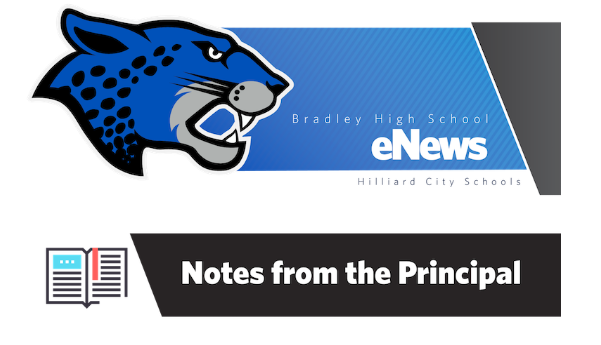 Good Afternoon Jaguar Families,
It's hard to believe that next week will be the start of November. We are proud of the effort our students have shown during our first quarter of the 22/23 school year.
Congratulations to the Hilliard Bradley marching band on earning the following awards at last weekend's Newark Band Invitational: 1st Place-AA, Best Overall Music, Best Overall General Effect and Grand Champion.
The HBMB will have its final performance of their 2022 program "Ad Astra" this coming Saturday at the OMEA State Marching Band Finals, held right here at HBHS. They will perform at 11:45 AM – if you are free, please consider coming out and supporting these incredibly dedicated and hard-working Jags.
Congratulations to all of our fall sports team and coaches. As we begin to wrap up the fall sports seasons, we would like to thank all of our families and staff for their support of all of our students. Tonight, the football team will be participating in their first playoff game against Thomas Worthington at Thomas Worthington high school beginning at 7:00pm.
Finally, below in the District Section of this newsletter is a very important survey about our school facilities.  I hope you take a moment to share your opinions with us.
Have a Great Weekend and Go Jags!!!

Seniors! Are you interested in a Fortune 500 Company Career Opportunity?
For the past 4 years, Hilliard City Schools has partnered with Worthington Industries, a Fortune 500 company and industry leader, to connect seniors interested in an immediate career after high school. We are excited to continue this relationship with Worthington Industries and continue offering this senior opportunity!
INITIAL INTEREST PREVIEW:
November 3rd: 
Seniors interested will tour a Worthington Industries facility in Columbus from 9:30-11:00.
November 17th:
Seniors interested will attend the Realistic Job Preview and interview for a position in this program. This includes:

Overview and tour with their parents
Parent informational session
Student interview process
PROGRAM INFORMATION:
Students accepted into this program will participate in a 2nd semester Worthington Industries experience with associated high school credit. Hilliard Darby will adapt senior schedules to allow for students to build this work and career course experience into their school day. Students will also earn a wage during the work phase of this exploratory program.
UPON COMPLETION OF THE PROGRAM:
If, at the end of the program, both Worthington Industries and the student are interested in continuing this relationship, a job offer will be extended during an official signing event.
For those who are interested and offered a position after high school, you can expect the following:
·         Extremely competitive wage
·         Health benefits
·         Retirement benefits and profit sharing
·         Opportunities for future educational assistance
·         Career advancement
Time is of the essence. Please reach out to your school counselor today!
Please click this link for more information.

Ski Club Information
Ski and Board Club Signups go "LIVE" on My Payments Plus Tuesday, November 1st!
Link to Ski and Board Club Info:
https://docs.google.com/document/d/13fAMJjZKS11dFVlaUumBbARX86d2BayO/edit

11/8 – No School
11/15- Band Concert
11/23- No School
11/24 & 11/25 – No School Thanksgiving Break

Master Facilities Plan Community Survey
You may be aware of work being done to create a Master Facilities Plan (MFP) for our district.  An essential part of this work relies on the input from our community.  Please take a few minutes to offer your thoughts on the buildings in our district.  The survey is on our web page, along with a short presentation you can watch. Click here to access the materials.
Girls' Tech Day Video
This year's AWS Girls' Tech Day was again a huge success this year.  It was a day to inspire a new generation of women in technology through interactive workshops like coding, robotics, AR/VR, and more.  More than 100 Hilliard students participated.
Click here to watch a video recap of the event.
Alumni Spotlights
 Hilliard Schools is proud of the excellence demonstrated by our alumni.  We want to share their stories and are creating a new Alumni Spotlight to highlight and recognize alumni achievements, along with the impacts they are making in their fields and communities.  These stories will be shared as a means to inspire our current students to pursue their dreams, connect alumni back to our community and serve as a point of districtwide and community celebration.
If you want to be considered for an alumni spotlight, or want to recommend someone else, please email us with more details.