Bradley eNews – October 11-15, 2021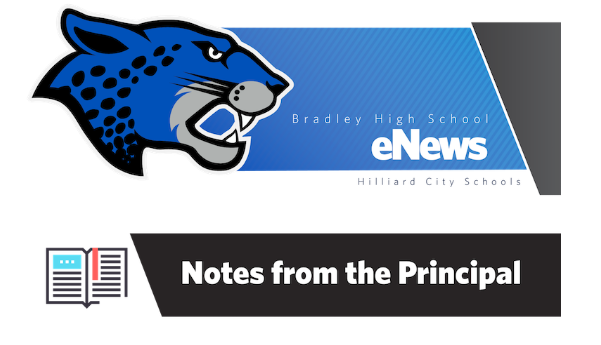 Good Afternoon Jaguar Families,
I would like to congratulate our own Audrey Ortiz, Lilly Ortiz, Christian Harris & Natalie Esquivel, who are four of 32,000 students from across the country to earn academic honors from the College Board's National Recognition Programs! These National Recognition Programs grant underrepresented students with academic honors that can be included on college and scholarship applications and connect students with universities across the country, helping them stand out during the admissions process. Colleges and scholarship programs use these honors to identify students from underrepresented groups through College Board's Student Search Service.
On October 28th, all sophomore and junior students will attend the first ever Hilliard City School Skilled Trade Expo. In partnership with the Ohio Contractor Association, the Association General Contractors of America, and the Building Trades Council, our students will learn about a variety of career pathways through hands-on experiences. This experience is aligned with the district's career advising policy and will assist students with career exploration and planning. Your students will receive more details as we get closer to October 28th.
Finally,  first-quarter report cards will be distributed electronically via Home Access. The first quarter grades will be available Friday, October 22nd at 4 p.m. Please review your child's grades and discuss strengths and areas of improvement in order to set goals for the second quarter. Take time to celebrate your child's successes and continue to work with his/her respective teachers to achieve any improvement that needs to take place.
Enjoy the long weekend and Go JAGS!!!

Counselor News – October 2021
October is a great time to finish work on your common application process, remember that November 1 is a deadline for most colleges to receive financial aid.  Your application must be submitted by the November 1 deadline.  Colleges are coming to Bradley to talk about their schools.  Please sign up through Naviance, you will find the dates and time of their visits.  The school counselor web site has a link on how to complete the common application process, check it out.
On October 28, all sophomore and junior students will attend the first-ever Hilliard City Schools Skilled Trades Expo.  In partnership with the Ohio Contractors Association, the Associated General Contractors of America, and the Building Trades Council, our students will learn about different career pathways through hands-on experiences. Hilliard buses will take students from their home school to the Franklin County Fairgrounds for the hour and a half experience.  Let's get "Ready for Tomorrow"
Attention AP Students and Parents:  It is time to register for AP Exams.  Taking these exams gives you the opportunity to earn college credit.  Do not miss out on this opportunity! The registration window will be open September 27th – October 25th.  Please note you must pay the exam fee to complete the registration process.  Being registered on College Board does not order an exam.  Payment must be completed to complete the exam order.  The cost of each exam is $96.  If you completed the free/reduced lunch application and were approved, you qualify for a reduced fee of $53 per exam.  Credit card (preferred payment method), cash or check are accepted.  You can pay with a credit card online at MyPaymentsPlus.  If by check please make payable to Hilliard City Schools.  Payment is due in full by October 25th.  There will be a $40 late fee for any exam order after October 25th.  If you have any questions please see Mrs. Buscemi or Mrs. Wintrich in the guidance office or they can be reached at Jessica_Buscemi@hboe.org or Melinda_Wintrich@hboe.org.

Senior Pictures due December 10th!
Seniors, plan when/where/how you're going to take your senior photos now! Go to the Bradley Yearbook website for a list of requirements and details about submission. The deadline to submit your senior photo to the yearbook is Friday, December 10th, 2021.
Concessions Volunteers Needed
We Need You!!  Please consider volunteering to work concessions for our home events!  We have a few big weeks coming up and would love your support!  Winter sports is just around the corner and those events will soon be posted. To sign up visit the Fall/Bradley Memorial Sign up Genius page. Concessions profits go back directly to both music and sports programs.
https://www.signupgenius.com/go/10c0d44aeaa2fa3fdc07-fall1
Friday, October 15 – No School – COI Day
Tuesday, November 2 – No School – Professional Development Day
Tuesday, November 9 – Tolles presentation to Sophomore Class
Wednesday, November 24 – Friday, November 26 – No School

Online Academy Registration for Second Semester
 Beginning with the second semester, students enrolled in our Online Academy (OA) will no longer have their home school named on their official transcripts.  Students can still graduate from their home school and receive a diploma from their high school, but the official state transcript will say Hilliard Online Academy.
For families interested in the Online Academy for the second semester, the registration window will open up October 25.  Many more details will be coming in the following weeks, but we want to give families as much time as possible to plan for the second semester.  As always, you can find more details about course offerings and all things Online Academy by clicking on this OA webpage link.
Recognizing Exceptional Staff
 We would like to announce a new staff appreciation award that will be given to Hilliard City School employees.  The Embrace, Empower & Inspire Award will be presented throughout the school year to staff members who exemplify the values of the Hilliard City Schools and make exceptional contributions to our district. These staff members demonstrate the Hilliard Way by making a difference every day, investing time in others, and pursuing excellence.
We hope our students, families, community members, and staff will take some time to nominate the staff member they feel best meets the criteria.  You can watch the a video and get more details this web page.
Tolles Super Electives
Thinking college and career for your students in grades 6-10? Attend an upcoming coffee chat to learn more about the "super electives" your kids can take later in high school with Tolles. Engineering & manufacturing, marketing & logistics, healthcare (pharmacy, nursing, exercise science, veterinary), computers (networking, web design), art design & communication, digital media development, and more. Three dates in October.  Learn more.