Bradley eNews – November 4, 2022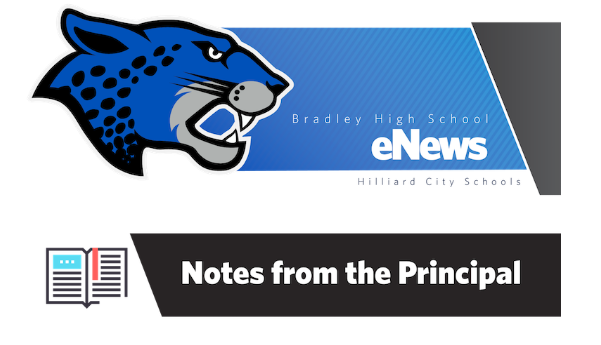 Good Afternoon Jaguar Families,
Congratulations to the following Bradley Seniors for receiving distinguished honors from the National Merit Scholarship Corporation; National African American Recognition Award: Abdullahi Abdi, National Rural and Small Town Award: Anthony Berman, Justin Planck, Neil Reddy, Samantha Hosni, Trisha Suresh. These students along with our National Merit Semi Finalist will be recognized next Monday November 7th during our board of education meeting.
Congratulations to the Bradley Marching Band on receiving a Superior rating at OMEA Marching Band Finals on Saturday. This marked the 12th straight year that the HBMB has received a Superior at States. They received Superior ratings from all 7 of the judges.
It has been a remarkable season for the band; please congratulate any of them you may have in class. We started working on our show July 18th, and they got better each and every performance. Here is a link to our State Finals performance:https://youtu.be/O3e0cCp3IxE
Finally, tonight at 7:00pm the Jaguars will be taking on Gahanna Lincoln High School at Whitehall Yearling High School in the second round of the high school football playoffs. We look forward to seeing those of you who can make the trip.
Have a great weekend and Go Jags!

Hello Jaguar families!  Thank you for your support so far this year!
We have another spirit night on Monday, November 14 from 4-8pm at McAlister's Deli on Hilliard-Rome Rd.  PTO will get 15% of the sales and no flyer is needed.  You can order through the app, the drive thru, or in the store.  Please mention Hilliard Bradley PTO when ordering!
We will also be at some of the home athletics this winter with a new supply of spirit wear!
Have a great weekend!
Hilliard Bradley PTO

Bradley's Ski and Board Club Sign-ups are LIVE in My Payments Plus
*Bradley's bus to Mad River on Thursdays is filling up quickly. Only 20 spots remain!
*The Hilliard High School trip to Holiday Valley in NY is NEARLY FULL. Only about 5 spots remain!
Club Info: https://docs.google.com/document/d/13fAMJjZKS11dFVlaUumBbARX86d2BayO/edit
Ski Club Swag: https://jupiter.areswear.com/store/?storeName=Hilliard_Bradley_HS_Ski_Club_Store_2022

11/7 – Board of Education Meeting, 6:30 p.m. Davidson High School
11/8 – No School
11/15 – Band Concert 7:00 p.m.
11/23 – No School
11/24 & 11/25 – Thanksgiving Break – No School