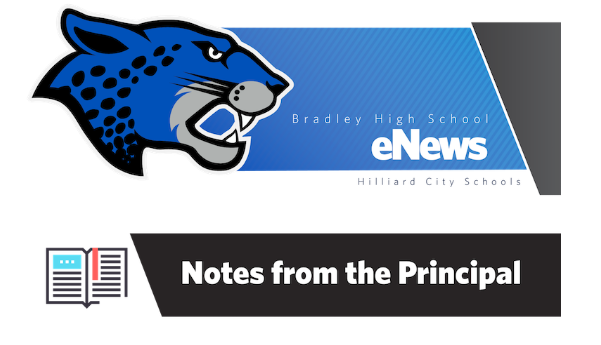 Good Afternoon Jaguar Families,
This was another great week at Bradley High School. Next Tuesday, November 22nd our sophomore students will be visiting the Tolles Career and Technical Center from 12:30pm-2:00pm. During their visit our sophomore students will have the opportunity to explore the many career pathways that Tolles has to offer.
Congratulations to our very own Reem Kadimi-Skalli!  Reem was chosen to be on the National High School Ethics Bowl Student Advisory Council. See the article below in the District News.
Hilliard Idol Finals will take place this Saturday, November 19th at 7pm in the Bradley Performing Arts Center. Tickets can be purchased on Local Level Events (HERE) or by going to bradleychoir.com/hilliardidol. This year's finalists represent ten different schools including: Washington, Darby Creek, Tharp, Station, Memorial, Heritage, Weaver, Davidson, Tolles, and Bradley. Hilliard Idol Finals will also feature performances from the 2021 winners Delilah Klochak (Heritage) and Piper Brill (Bradley) and all of Jaguar A Cappella! Finalists from Bradley are Sabriye Bayati, Annabelle Brock, Micah Gallebo, James Goodwin, Jared Morisue – Lesser, Jay Phillips, MaKenna Sandy, Gracyn Starrett, and Skylar Zakrzewski.
The weekend of December 2nd-4th, Hilliard Bradley Theater presents Treasure Island! Please come support our program and the wonderful students who have worked so hard on this production. Treasure Island runs from December 2nd through December 4th. Performances on Friday and Saturday are at 7pm, and Sunday's performance is at 2pm. Tickets can be purchased through Local Level. The link is on our website at www.bradleytheater.com
Finally, just a reminder that the school will be closed from November 23rd-25th for Thanksgiving Break. I hope everyone has a great few days with friends and family.  Go Jags!!!

Seniors, Plan when/where/how you are going to take your senior photos now!
Go to the Bradley Yearbook website for a list of requirements and details about submission. The deadline to submit your senior photo to the yearbook is Friday, December 9th, 2022.

Hilliard Bradley Theater is very excited to present Ken Ludwig's Treasure Island, an exciting re-telling of the classic novel by Robert Louis Stevenson.
Join us December 2nd, 3rd, and 4th for this exciting and entertaining show filled with swashbuckling and pirates! You can buy your tickets here: Treasure Island Tickets.  Hope to see you there!

Bradley's Ski and Board Club Sign-ups are LIVE in My Payments Plus. Note: My Payments Plus sign up will close on December 1st.
*Davidson and Darby Ski Clubs are Full
*Bradley's Thursday bus to Mad River has a few remaining spots! Don't miss out!
*The Hilliard High School trip to Holiday Valley in NY IS FULL. Email Becky_Waller@hboe.org to get on the waitlist.
Club Info: https://docs.google.com/document/d/13fAMJjZKS11dFVlaUumBbARX86d2BayO/edit

November 23, 24, and 25 – No School
December 12 – Board of Education Meeting, 6:30 pm at Hoffman Trails Elementary
December 19- January 2 – No School, Students Return January 3, 2023

Bradley Student Honored by National Ethics Bowl
Bradley High School junior Reem Kadimi-Skalli, was chosen to be on the National High School Ethics Bowl Student Advisory Council. Reem is a second-year Ethics Bowl participant.  She is one of four students who sit on the council, bringing student experience to the very center of their programming and governance.   Click here to read more about this accomplishment.
Contractors Association Panel for Students and Families
In cooperation with the Ohio Contractors Association, Hilliard City Schools is hosting a panel discussion on the amazing opportunities within the Skilled Trades. We cordially invite junior and senior students and parents to learn more. This event will be held Tuesday, Nov. 22, at Darby High School, from 6:30-8:00 pm.
Portrait of a Learner Input
As you may be aware, our district is working on a strategic planning process with our community.  To date, the Community Design Team, made up of almost 300 people, has met twice to dig into this work.  This process is designed to be highly collaborative to ensure all stakeholders—staff, parents, families, students, business, and community leaders—are given opportunities to share their ideas and feedback on our district's future direction.
At this stage, we want to engage the larger community as well.  You can read more about the Portrait of a Learner by clicking here for our web page.  We are asking for your input on the key competencies you feel are essential for our students.  You can view a list of potential competencies by clicking here, and you can add your own standards as well.  Please click this link to submit your feedback.  We will also ask our secondary students to give feedback on what is important to them.
Hilliard Education Foundation Save the Date
The Hilliard Education Foundation is thrilled to announce that we will once again host a fantastic Denim and Diamonds event in 2023!  This casual and fun event helps fund innovative learning opportunities for Hilliard City Schools students and sold out in 2022.
Be sure to save the date for March 3, 2023, at Heritage Golf Club in Hilliard.
Spaghetti Dinner to Support Weekend Food for Hilliard Students
Feeding Hilliard Students is the signature project of the Hilliard Kiwanis Club. Each week volunteers pack five hundred plastic bags with non-perishable single-serving food items for distribution through our local elementary schools. These bags are delivered to the schools on the last day of school each week. The schools identify the students in need of these bags and distribute them to those students.
To support this program, you are invited to attend a Kiwanis Club-hosted spaghetti dinner on Saturday, November 19, at the Hilliard Senior Center from 4 pm to 7:30 pm.
Good Tidings Christmas Help
Every year Festa and Cornerstone Christian Fellowship partner with the community to provide an affordable shopping experience for families with a limited income.  The Good Tidings Christmas Store allows families to purchase a variety of new items at very affordable prices in a respect-filled manner.  This year's store dates are Monday, December 5 – Friday, December 9.
Shopper registration for the Good Tidings Christmas Store is now open.  Registration is online this year using this link: https://forms.gle/nE3BXsxqAFpqjQwK7
They are also collecting new toys and gift donations for Good Tidings. You can read moreon their webpage.