Bradley eNews – May 20, 2022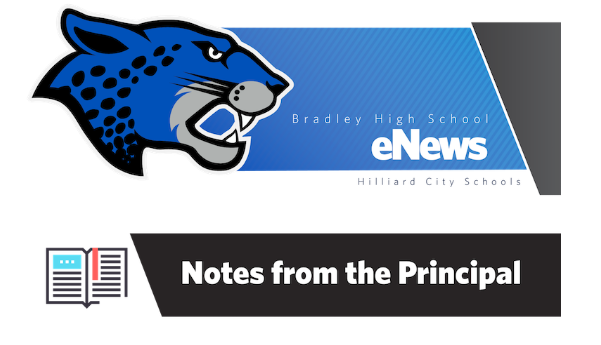 Good Afternoon Jaguar Families,
It's hard to believe, but we have just 5 days remaining in the school year and graduation is just around the corner. Bradley High School's graduation ceremony will be held Wednesday May 25th beginning promptly at 7:00 pm at the Schottenstein Center on The Ohio State University campus. Graduating seniors need to arrive no later than 6:00pm.
Finally, the week of May 23rd we will be administering final exams for underclassmen on Tuesday, May 24th through Friday, May 27th.  As we approach final exams please have a discussion with your students about the upcoming exam schedule  Click Here
Have a great weekend and Go Jags!
Bradley Class of 2022 Seniors and Senior Parents!
Up to date info will continue to be shared through "Class of 2022" Announcements as well as updated on the website live link for the Bradley Class of 2022.
Important Parking Information
Each student will receive one free parking pass for graduation at mandatory practice on 5/24 at Bradley HS.  Practice will run from 9:30 a.m.- Noon approximately with an optional pancake breakfast before.
Buy Your Yearbook Now!
Buy your yearbook now at JostensYearbooks.com. Order your yearbook by the end of May so you can have these memories for the rest of your life! Unlike social media, this is something concrete that no one can alter or delete — not to mention the yearbook has candid photos taken by the yearbook staff that you've never seen before! Order your yearbook today! If you have any questions or concerns, please contact Cassidy Dyer at cassidy_dyer@hboe.org.

All the Resources you need to understand the process successfully!
Bradley High School Graduation Resources – are located on the Bradley School Counseling home page.  A step by step process to make transition to the new requirements as smooth as possible.
Summer School Information in now available please check out the School Counselor web page for all the details.
Just a reminder, there are still scholarships available, please go your child's Naviance home page to see what is still a available.
https://www.hilliardschools.org/hbr/guidance/
Job Postings – The school Counseling office has many job postings for your child to find a job, lots of employers are looking for our students to work.  Please tell them to stop by our office.

OhioHealth is offering free sports physicals in May.  Click here for details.  Schedule your athlete's physical now and be set for the entire upcoming school year!  Find the physical form by clicking here.  Upload two pages (Physical Exam Form and Medical Eligibility Form) to Final Forms by clicking the small black folder at the top right after logging in to the parent's Final Forms account.

May 20 – Last Day for Seniors
May 25 – Bradley High School Graduation
May 27 – Last Day of School

A Day in the Life of a Kindergartener
Preparing our students to be Ready for Tomorrow isn't just for our older students.  Even our youngest learners are learning the academics that lay the foundation for their journey through our schools.  Here is a video of what just one day looks like for a kindergarten student.
Congrats Grads – Guest Blog
As we look to celebrate our 2022 graduations next week, Board of Education Member Zach Vorst has written a guest blog that discusses all the opportunities our students can take advantage of on their path to be Ready for Tomorrow.  You can read his column by clicking here.
Free Summer Lunch Camp Registration
Registration for FESTA's 2022 Free Summer Lunch Camp is now open. The camp will run Monday – Friday, June 8 – July 29, 2022 – closed July 4th.
Recreation, games, art, special guests, and summer reading support
with healthy breakfast and lunch served daily.  Click here for more information and to sign up.
ODNR Conservation Teen Advisory Council ApplicationHighly-motivated high school students with a passion for Ohio's great outdoors are invited to serve on the Conservation Teen Advisory Council (ConTAC).  The Ohio Department of Natural Resources (ODNR) is accepting applications for the 2022-2023 class of conservationists now through June 20.  Click here for more information.
Columbus Library's Free Summer Reading Challenge
This summer, your child can join forces with the Reading League to keep their reading skills strong! Starting June 1, sign up at columbuslibrary.org/summerreading or download the free READsquared app through the App Store or Google Play. Your child can track their reading progress to earn great prizes – and earn raffle entries along the way to win even more! Staff at the library's 23 locations are ready to help!