Bradley eNews – March 22-26, 2021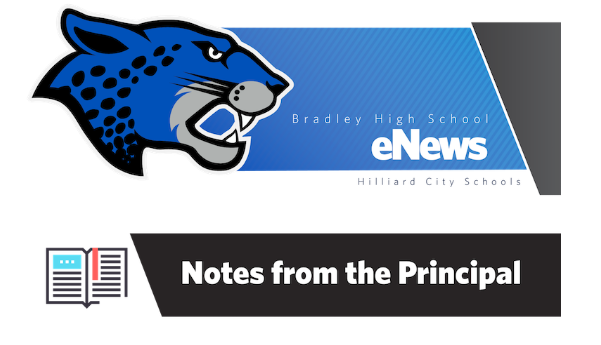 WHAT'S HAPPENING THIS WEEK
Students will be in ALL IN this week.
March 22-23  Picture Make Up Days
March 23  Senior Class meeting (3rd period)
March 26-28  Alice In Wonderland – Purchase TICKETS HERE
March 29 – April 2   Spring Break  No School
April 7   State Testing Begins – see below for details
CONCESSIONS ARE NOW OPEN!
The Bradley and Memorial concession stands can finally open!  We will be cleaning them this weekend.  If we can get them staffed we will open.  We are serving only pre-packaged foods at this time, but is subject to change as soon as we are allowed.
All profits go back to the students in someway or another. Through boosters athletic & music or theater.  You can sign up and work at anytime or either school and support your program! $10.00 goes towards your named program when you work a session. You will be asked to sign in when you show up to work.   We ask all volunteers to please have a volunteer badge, check Hilliard schools parent info for volunteer link.
We are now using signup genius. If you received our emails in the past we imported your address.
Send questions to : margiedaykin@yahoo.com
https://www.signupgenius.com/go/10c0d44aeaa2fa3fdc07-bradley
​​​​​​​
STATE TESTING BEGINS IN APRIL
ATTENTION SENIORS                        
ACADEMIC AND MILITARY SIGNING
Bradley's Annual Academic and Military Signing Program will be held on Sunday May 16th.  Please notice the change in the date of this event.  
For those who qualify, a formal invitation should have already been sent to your home.  Also in the announcements section of the Class of 2021 Canvas page, there are details of this program.  If you believe your child qualifies and did not receive a letter in the mail, please have your child stop by the Office.  If your student does meet the qualifications and would like to participate, please fill out the appropriate Google Form by Thursday, March 25.
The student will be asked to speak for a moment during this program.
If you have any questions, please stop by the Student Services Center.
More information will be coming VERY soon about other celebrations for our seniors!!  Please make sure students check Canvas for dates as these may change due to COVID restrictions.  
NEED HELP?
Hilliard Schools is partnered with Safe School Hotline. This is a free and confidential tool for our students to report threats of violence, illegal activity, or any activity they think can harm students or staff in our schools. There is a toll-free number students can call, or number they can text, or a web page where they can report their concerns and talk to a trained mental health counselor.
Safe Schools Tip Line: Call 1-800-418-6423 extension 359 OR text TIPS to 66746
The HOPE APP was developed to provide students with tools and information for student well-being.
Other Important Community Resources:
Crisis Text Line: Text HOME to 741741
Nationwide Children Youth Hotline: 1-614-722-1800
Suicide Lifeline: 1-800-273-8255
Teen Hotline: 1-614-294-3300                                                                                                                        Safe Schools Tip Line: Call 1-800-418-6423 extension 359 OR text TIPS to 66746
Sexual Assault Hotline: 1-800-656-4673
Non-emergency Columbus Police: 614-645-4545
Non-emergency Hilliard Police: 614-876-7321 or Franklin County Sheriff 614-523-3310
STUDENT SERVICES TEAM
Check out the COUNSELING TEAM WEBSITE.  Also, there is a lot of information on your "Class Of" Canvas page to assist you with any counseling needs.  The TEAM is here for YOU!
BUY YOUR YEARBOOK TODAY
This is a year for the history books and what better history book than a yearbook? You won't want to forget the interesting "new normal" of this year. Buy a 2021 yearbook as a way to document this year forever at jostensyearbooks.com! Email Ms. Dyer with any yearbook questions at cassidy_dyer@hboe.org.
COLLEGE AND CAREER INFORMATION
CLICK HERE to find information about plans after high school.  You can always reach out to your child's school counselor if you have specific questions.
Online Academy Scheduling Webinar
 We want to encourage parents and students to join the Online Academy Leadership team on March 24 at 6 PM for Elementary families and 6:30 PM for Secondary families as we share about the 21/22 school experience. We will cover many aspects of the Online Academy including class offerings, the structure of the day, attendance criteria, and overall expectations. There will be time to ask questions and learn more.   You can find the zoom links here.