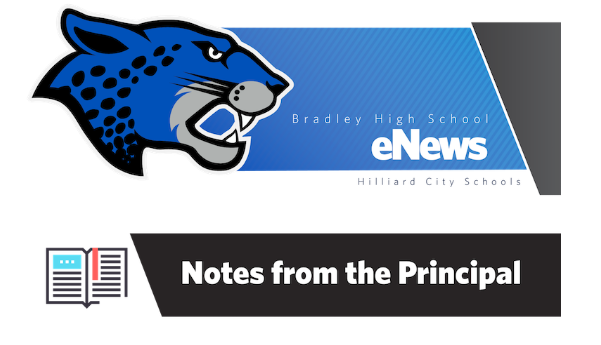 Good Afternoon Jaguar Parents,
Our first week back from break went well. Freshman, Sophomore and Junior scheduling meetings will begin at the beginning of February. Please talk to your students about their class choices to make sure they are making the best decisions when scheduling their classes. As we begin to build Bradley's schedule for the 2023-2024 school year, it is important that our students make informed scheduling decisions.
Grade cards will be available January 10th. Please review your child's grades and discuss strengths and areas of improvement in order to set goals for the third quarter. Take time to celebrate your child's successes and continue to work with his/her respective teachers to achieve any improvement that needs to take place. This is also a good time to re-emphasize your expectations for your child for the remainder of the school year.
Finally, congratulations to Tiffany Thomas who was named the OCTELA Outstanding Language Arts Educator in the high school category. We are lucky to have Ms. Thomas as a member of our staff and we look forward to her continued success.
Have a great weekend and Go Jags!!!

Parents of Seniors:  Please have your senior complete the Intent to Participate form for Graduation.
Intent to Participate (Schottenstein Center Ceremony)
Also, don't forget to order your cap and gown. 
There are 2 easy ordering options:
ONLINE: WWW.JOSTENS.COM
PHONE:  1-800-JOSTENS (567-8367)

Hello Bradley families! Did you know that PTO offers a $1000 scholarship to a graduating senior?  Did you know we also support families in need as well as have a hardship budget for times when teachers need special items. In the past, we have helped a class cook a Thanksgiving dinner to enjoy together.  We have also supported students who need one class to graduate through the Keystone credit program.  We provided cookies for the Celebration of Excellence and for each Senior in the spring!!  However, we are struggling to fundraise the needed money to keep these things going!  There are 2 simple things you can do to help…and it costs you nothing!
First you can link your Kroger Plus card to the Hilliard Bradley PTO. Second if you shop using Amazon, you can link your account through the Amazon Smiles Rewards Program.  Go to the bottom of the PTO website for directions.  These are two simple ways to help us get the funds we need to continue to support these (and other) needs in our Bradley community!
We will be selling spirit t-shirts at some of the home basketball games.  We have an order form ready so pre-orders can be made.
Lastly, our next meeting is January 17, at 5pm.  We hope to see some of you there!  Thank you for your support!  Brooke Germaine

Bradley High School is in the process of applying for our Purple Star School designation from the Ohio Department of Education. The Purple Star Award recognizes schools that show a major commitment to students and families connected to our nation's military. Schools that earn the award will receive a special Purple Star recognition to display on site to signify our continued commitment to recognition, fund raising and student support services for those families and students who serve or have served our country.
It is IMPORTANT that we capture you or your student's (both past and present) military branch for future events and recognition.  As a part of these efforts, we have created a Military Resources webpage, a space for our military families to find resources. We invite you to visit the webpage and take a look around. Please fill out the form at the top of the page if you have any military experience you'd like us to recognize.
https://www.hilliardschools.org/hbr/military-family-resources/

January 9 – Board Organizational and Regular Meetings, 6:30 pm Bradley HS
January 16 – No School
February 17 – No School
February 20 – No School