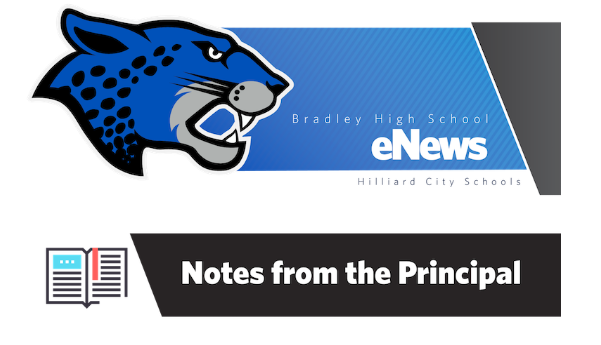 Good Afternoon Jaguar Parents,
Next week will be our first spirit week of the 2023 school year. The week will conclude with a Cross District Rivalry Basketball Game vs. Hilliard Davidson HS, Friday, January 27, 2023, at Bradley High School.  Both schools will be uniting to celebrate our Military Recognition Night during the varsity game.
Next Wednesday, we will be having our Electives Fair.  The fair will be held during lunches (periods 4-6).  As we approach scheduling, this is an opportunity to highlight electives to our students. Students will be able to freely walk around to each table, gather information and ask questions.
Freshman, Sophomore and Junior scheduling meetings will begin in two weeks. Please begin to talk to your students about their class choices to make sure they are making the best decisions about the classes they are scheduling. During the next few weeks, take the time to review the 2023-2024 course of studies to assist you and your student as you begin to plan for next school year.
Have a Great Weekend and Go Jags!

Grade 9 and 11 Vision and Hearing Screenings
Next week our school nurse will be conducting vision and hearing screenings for our freshman and junior students. Freshman will be screened on Tuesday, January 24 and juniors will be screened on Friday, January 27.  Please reach out to our school nurse, Ms. Ashline, at Deborah_Ashline@hboe.org if you have any questions.
American Red Cross Blood Drive
American Red Cross Blood Drive @ Bradley – Tuesday, January 24, 8:00 AM – 2:00 PM. To sign up, please visit Redcross.org, sponsor code BradleyHS.
Parents of Seniors:
Please have your senior complete the Intent to Participate form for Graduation.Intent to Participate (Schottenstein Center Ceremony)
Also, please don't forget to order your cap and gown. 
There are 2 EASY ORDERING OPTIONS:
ONLINE: WWW.JOSTENS.COM
PHONE:  1-800-JOSTENS (567-8367)

Military Appreciation Night- Basketball Game – Friday, January 27, 2023
Mark your calendars now and join us for a Cross District Rivalry Basketball Game vs Hilliard Davidson HS, Friday, January 27, 2023.  Both schools will be uniting to celebrate our Military Recognition Night during the varsity game.
Invite as many Bradley and Davidson supporters to recognize Students, Parents, Grandparents, Neighbors and Friends of both schools who are currently serving, have served or will serve, as well as support our efforts in pursuing a Purple Star School designation.  ALL military branches will be recognized this evening.
We will be offering the Chuck a Duck 50/50 Raffle that evening with funds to be donated to a Military Cause, and hope that our Hilliard Community will come out to support this fundraising opportunity.
In addition, we are offering a Spirit week leading up to the Friday night game, designating Friday as our "camo" day.  We would love to have you join us for that theme on Friday night in our stands.

Hello Bradley Families!  Thank you so much for your support connecting to Kroger Community Rewards and Amazon Smiles programs.  We have already seen an increase from Kroger of 30% in the funds that Bradley PTO has received!  If you have not yet, please go to the PTO webpage http://www.hilliardschools.org/hbr/pto/ and scroll down to the bottom to find directions on how you can sign up.  Thank you for your continued support.
We are also in need of a new Spirit Night Coordinator.  If you are interested in helping, please email PTO at hilliardbradleypto@gmail.com

PRESENTS- THE PLAY THAT GOES WRONG
Tickets:  Local Level Events
Adults:    $10.00
Students/Seniors:    $7.00
February 3rd – 7pm
February 4th – 7pm
February 5th – 2pm
From Mischief, Broadway masters of comedy, comes the smash hit farce. Welcome to opening night of the Cornley University Drama Society's newest production, The Murder at Haversham Manor, where things are quickly going from bad to utterly disastrous. This 1920s whodunit has everything you never wanted in a show—an unconscious leading lady, a corpse that can't play dead, and actors who trip over everything (including their lines). Nevertheless, the accident-prone thespians battle against all odds to make it through to their final curtain call, with hilarious consequences! Part Monty Python, part Sherlock Holmes, this Olivier Award–winning comedy is a global phenomenon that's guaranteed to leave you aching with laughter!

Bradley High School is in the process of applying for our Purple Star School designation from the Ohio Department of Education. The Purple Star Award recognizes schools that show a major commitment to students and families connected to our nation's military. Schools that earn the award will receive a special Purple Star recognition to display on site to signify our continued commitment to recognition, fund raising and student support services for those families and students who serve or have served our country.
It is IMPORTANT that we capture you or your student's (both past and present) military branch for future events and recognition.  As a part of these efforts, we have created a Military Resources webpage, a space for our military families to find resources. We invite you to visit the webpage and take a look around. Please fill out the form at the top of the page if you have any military experience you'd like us to recognize.
https://www.hilliardschools.org/hbr/military-family-resources/

February 3-5 – Bradley Theater Presents The Play Goes Wrong
February 15 – Parent Teacher Conferences
February 17 – No School
February 20 – No School
March 31- April 7 – No School

Report Cards for Students in Grades 6-12 Now Available
Report cards for students in grades 6-12 for the second marking period were finalized and posted in Home Access on Tuesday, January 10th.  If you haven't already done so, please login to Home Access to review your child's report card.  Click here for: Home Access Center.
 Popular Annual Financial Report
The quantity and quality of learning programs are related to the funding provided and the effective, efficient management of those funds. It follows that the district's purposes can best be achieved through prudent fiscal management.  Each year the district issues the Popular Annual Financial Report for our community.  The 2022 report is now available by clicking here for our web page.
 High school students sought for City Rec and Parks Commission 
Hilliard City Council is accepting applications for up to three Hilliard high school students to serve on the Recreation and Parks Advisory Committee, which provides recommendations and advice on a variety of topics.
Generally, topics the committee has been reviewing have included development of existing parkland; recreational facilities; trails and bikeways; health, wellness, and recreational programming and policy; and updates to strategic plans. Major topics under review include the future Wellness and Recreation Center and its associated athletic fields and other park amenities.
In addition to representatives of Hilliard City Council and Hilliard City School District, the committee includes residents and up to three students from Hilliard's three high schools.   To apply for one of these vacant high school student positions on the Recreation and Parks Committee, send a letter of interest and a resume by March 1, 2023, to Diane Werbrich at councilclerk1@hilliardohio.gov
Fun-filled Social Evening Supports Innovation in Hilliard City Schools
Join the Hilliard Education Foundation for the fifth annual Denim and Diamonds event supporting innovative learning experiences for Hilliard City Schools students! This casual yet classy event, attended by more than 200 community leaders and supporters, includes heavy hors d'oeuvres, a silent auction, bourbon and wine pulls, DJ, a photo booth, a cash bar and much more. Proceeds benefit the classroom learning grant program.
The party will take place on Friday, March 3, 2023, from 7-11 p.m. at Heritage Golf Club in Hilliard. To purchase tickets or view sponsorship information, please visithttps://bit.ly/3ZuO7oz.