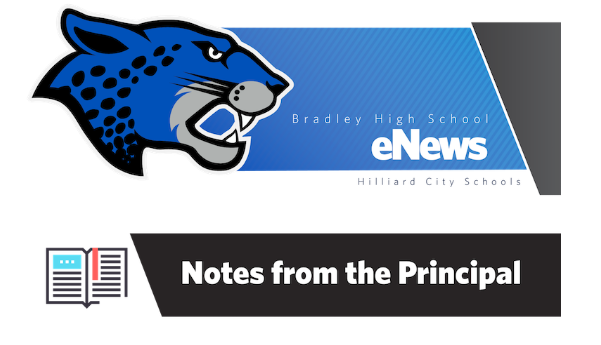 Good Afternoon Jaguar Parents,
Next Monday, Bradley High School will be closed in observance of Martin Luther King Day.
On Tuesday, January 17, Beth Weinstock of Birdie Light will talk to all of our 10thand 11th grade students about the dangers of fentanyl. Ms. Weinstock lost her son to an unintentional fentanyl overdose in 2021. Her presentation will focus on prevention and awareness of this dangerous drug.
Mark your calendars NOW to join us for a Cross District Rivalry Basketball Game vs. Hilliard Davidson HS, Friday, January 27, 2023.  Both schools will be uniting to celebrate our Military Recognition Night during the varsity game.
Invite as many Bradley and Davidson supporters to recognize Students, Parents, Grandparents, Neighbors and Friends of both schools who are currently serving, have served or will serve as well as support our efforts in pursuing a Purple Star School designation.  ALL Military branches will be recognized this evening.
Have a great three-day weekend and Go Jags!!!

Parents of Seniors:  Please have your senior complete the Intent to Participate form for Graduation.
Intent to Participate (Schottenstein Center Ceremony)
Also, don't forget to order your cap and gown. 
There are 2 EASY ORDERING OPTIONS:
ONLINE: WWW.JOSTENS.COM
PHONE:  1-800-JOSTENS (567-8367)

Military Appreciation Night – Basketball Game – Friday, January 27, 2023
We will be offering the Chuck a Duck 50/50 Raffle that evening with funds to be donated to a Military Cause, and hope that our Hilliard Community will come out to support this fundraising opportunity.
In addition, we are offering a Spirit week leading up to the Friday night game, designating Friday as our "camo" day.  We would love to have you join us for that theme on Friday night in our stands.

Hello Bradley families! Please consider helping the PTO with raising funds to continue our support of Bradley High School students and teachers.  Go to the bottom of the PTO website for directions to the 2 simple ways you can help.  Also, be on the lookout for a sign up to the next coffee cart in February.   We hope to see you at our next meeting on January 17, at 5pm in the front office conference room.
Thank you for your support!

Purple Star School
Bradley High School is in the process of applying for our Purple Star School designation from the Ohio Department of Education. The Purple Star Award recognizes schools that show a major commitment to students and families connected to our nation's military. Schools that earn the award will receive a special Purple Star recognition to display on site to signify our continued commitment to recognition, fund raising and student support services for those families and students who serve or have served our country.
It is IMPORTANT that we capture you or your student's (both past and present) military branch for future events and recognition.  As a part of these efforts, we have created a Military Resources webpage, a space for our military families to find resources. We invite you to visit the webpage and take a look around. Please fill out the form at the top of the page if you have any military experience you'd like us to recognize.
https://www.hilliardschools.org/hbr/military-family-resources/

January 16 – No School
February 17 – No School
February 20 – No School

Parent Voice in Health and Math Curriculum
The Hilliard City School District's Curriculum Department is in the midst of a multi-year curriculum revision cycle for several content areas. An important part of this process is seeking input from our parents on what is important to them in each content area. The district is seeking input on two content areas, Health and Wellness and Math.  You can read the Health and Wellness course of study by clicking here. If you are interested in providing feedback in regard to your child's Math curriculum, please click this link and respond to a brief, two-question survey.
Parent/Guardian Book Selection Exemption Form
If you wish to request that a book or resource, not be checked out to your student from their Innovation & Discovery/Media Center, you must complete an exemption form.  You can access more information and the form by clicking here.  Each submitted form will accept up to 10 book titles/author's names.   This exemption form is for the current school year, and will need to be filled out each year.