Bradley eNews – April 29, 2022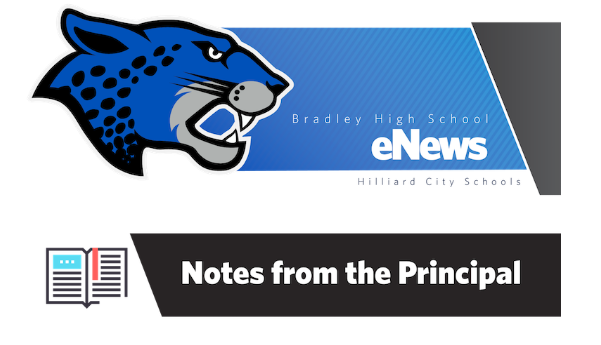 Good Afternoon Jaguar Families,
This week, we finished the Ohio State Test. All of our students did a great job of adjusting to the schedule changes and staying focused for the past few weeks. AP testing will begin this Monday May 2nd. Non AP tested classes will run as normally scheduled and AP students will test during the school day.
Tonight, April 29th the Hilliard Bradley Theater presents Mamma Mia! The show will run from April 29th through May 1st. Performances on Friday and Saturday begin at 7pm, and Sunday's performance begins at 2pm. Tickets can be purchased through Local Level. The link is on our website at www.bradleytheater.com
Next Tuesday May 3, is a scheduled district professional development day for our teaching staff. The building will be open, but students will not be attending school. Regularly scheduled classes will resume on Wednesday May 4th.
Senior parents, as we continue to go paperless, please make sure to read the SENIOR information below.
Have a great weekend and Go Jags!!!
Bradley Class of 2022 Seniors and Senior Parents!
Up to date info will continue to be shared through "Class of 2022" Announcements as well as updated on the website live link for the Bradley Class of 2022.
Google Forms for everyone.
Last Call for Academic/Military Signing for those who qualify and wish to participate due by May 1.
Military Signing Form
Academic Signing Verification Sheet
Important Parking Information
Each student will receive one free parking pass for graduation at mandatory practice on 4/24 at Bradley HS.  Practice will run from 9:30 a.m.- Noon approximately with an optional pancake breakfast before.
Additional pre-sale parking tickets will be for sale here at the office starting May 2 for just $3.00. Bring cash to the main office if you need more than one pass for your family.  If you wait until the day of the event and need additional parking it will be $10 card only no cash at OSU.
Buy Your Yearbook Now!
Buy your yearbook now at JostensYearbooks.com. Order your yearbook by the end of May so you can have these memories for the rest of your life! Unlike social media, this is something concrete that no one can alter or delete — not to mention the yearbook has candid photos taken by the yearbook staff that you've never seen before! Order your yearbook today! If you have any questions or concerns, please contact Cassidy Dyer at cassidy_dyer@hboe.org.
Senior Yearbook Wish Ads Due May 6th!
Looking for a special way to congratulate a graduating senior? Order a Yearbook Wish Ad by May 6th on our website at https://sites.google.com/hilliardschools.org/bradleyyearbook/wish-ads?authuser=0. Your wish ad will be printed in full color and be in the 2022 Bradley Yearbook forever! If you have any questions or concerns, please contact Cassidy Dyer at cassidy_dyer@hboe.org.

Graduating Seniors, are you looking to launch a Career after HS?
Seniors interested in a career, please complete the form below to register and participate in the "Career From Here" Events on May 5th and May 11th at The Hub – 3859 Main Street Hilliard, OH 43026.
Who will be there? Companies will be recruiting in the areas of customer service, finance, healthcare, IT, skilled trades, manufacturing, and more.
What should I expect? A great opportunity to network with companies, explore career opportunities, sign-up for interviews, attend an interview prep boot camp, and participate in the Hiring Event on May 11th.
How do I sign up? Register for the event by completing this form: "Career from Here" Registration Form

All the Resources you need to understand the process successfully!
Bradley High School Graduation Resources – are located on the Bradley School Counseling home page.  A step by step process to make transition to the new requirements as smooth as possible.
Summer School Information in now available please check out the School Counselor web page for all the details.
Just a reminder, there are still scholarships available, please go your child's Naviance home page to see what is still a available.
https://www.hilliardschools.org/hbr/guidance/
Job Postings – The school Counseling office has many job postings for your child to find a job, lots of employers are looking for our students to work.  Please tell them to stop by our office.

If you have not yet paid your athletic participation fee, please do so as soon as possible.
Graduation Yard Banners are available to order for any Senior by visiting www.MyMidwestSports.com.  Click Online Ordering > PrePay > Graduation Banner Gallery.  Or call 614-841-7608.  Order by May 6 for free delivery to the school.

May 3 – Professional Learning Day for Staff, No School for Students
May 9 – Board of Education Meeting, at Crossing, 6:30 pm
May 25 – Bradley High School Graduation
May 27 – Last Day of School

Career from Here, Hiring Fair for Seniors
Seniors interested in starting a career after high school, please complete the form below to register and participate in the "Career from Here" Events on May 5th and May 11th at The Hub.  You can learn more on our web page.
Thank a Teacher
The last few years have been difficult for all of us. Teachers have risen to the challenge and supported students to help them thrive.  Now is our chance to show all the great educators in Hilliard City Schools our appreciation.  Beginning April 25, you can Thank a Teacher as part of National Teacher Appreciation Week.  Simply visit the Hilliard Education Foundation's web page and send up to three teachers, support staff or administrators a message of appreciation. The Hilliard Education Foundation will make sure the note is sent to these dedicated educators and their supervisors. No donation is required for this opportunity, but all contributions support innovative learning opportunities for students through classroom grants and college scholarships.
Hilliard Schools Night with the Crew
Join your friends and neighbors for a special Hilliard Schools Night with the Crew on July 17 as the Crew takes on FC Cincinnati.  You can save 30% on tickets for one of the Crew's biggest rivalry games of the year.  Click here to purchase tickets.