Bradley eNews – April 19-23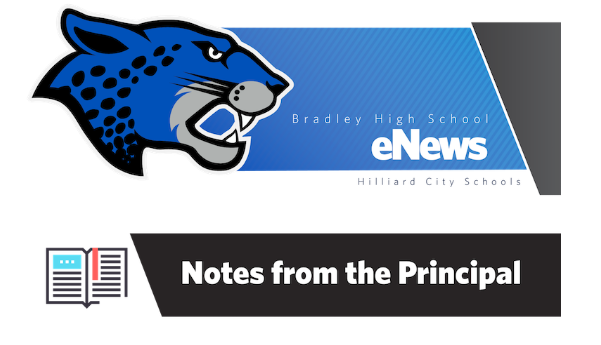 WHAT'S HAPPENING THIS WEEK
April 21   State Testing – Biology   All students who do NOT take biology are doing "at home learning".
April 21   4.25 Honor Roll Breakfast @ Der  Dutchman – 8 am
April 24  Prom @ The Makoy Center  7:30 – 11:00 pm
April 27  Seniors pick up cap and gowns during 3rd period
May 3 – 17  AP Testing

STATE TESTING CONTINUES THIS WEEK
For students who are NOT testing, we will have "at home learning" (remote learning).  There will be academic tasks posted in Canvas. (No formal Zooms due to proctoring.)
ATTENTION SENIORS                        
Check out the important dates for seniors below.  THESE ARE ALL SUBJECT TO CHANGE – all updated information will be sent to students via Canvas.
Also, CLICK HERE if you missed the senior class meeting before Spring Break.
IT'S A MIDNIGHT MASQUERADE
HILLIARD BRADLEY PROM 2021
The Makoy Center
Doors open at 7:00PM
Dinner begins at 7:30PM
Entertainment: Dancing, live music, comedy, karaoke, and trivia
Prom ends at 11:00PM
Can we dance? Yes! It's prom, of course you can dance. And yes, there will be a DJ, live entertainment, and a dance floor! Everyone will get to dance on the dance floor for 15 minutes at a time. We will take short entertainment breaks in between, and then back to more dancing!
Do we have to wear a mask? When you are sitting at your table, no. When you are up and moving around the room or dancing, then yes. This is a mandate from the State of Ohio – we don't have any control over this!
How will social distancing be maintained? We are limiting our ticket sales to 350 this year, and the tables are all spaced 6 feet apart. If you are moving around the room, it will be up to you to maintain the level of social distancing you are comfortable with.
Why is dinner included this year? Most local restaurants are operating at 50% capacity and do not allow large groups of people. By having dinner at prom, you can eat with your friends and you won't have to worry about being able to get a reservation for your entire group.
What's for dinner? Dinner will be a buffet consisting of: Herbed chicken with lemon cream sauce, manicotti shells stuffed with ricotta cheese, parmesan and marinara sauce, steamed green beans, herb roasted potato wedges, house salad with choice of dressing, dinner rolls and butter, and Nothing Bundt Cakes for dessert. We will also have soft drinks, iced tea, coffee, and lemonade.
What is the theme, and what do I have to do for it? The theme is Midnight Masquerade. The Makoy Center will be decorated with this theme in mind. You don't need to do anything for the theme unless you want to. If you want to dress for the theme, you can wear a special mask.  You can also just show up and have a good time.
Do we have to pay to park? No, there is plenty of parking, and it is free!
I still have questions, who do I contact?
Mr. Gerber: brian_gerber@hboe.org
Mrs. Cote: cindy_cote@hboe.org
YEARBOOK SENIOR WISH ADS ON SALE NOW!
Attention parents/guardians and loved ones of a graduating senior, are you trying to find the perfect way to express your love, pride, or just sheer congratulations to a special senior upon his/her/their graduation?  Or maybe you're a senior who wants to say good-bye to someone? The Bradley Yearbook Staff has just the thing! Place a wish ad in the yearbook! Orders are due Friday, May 7th, 2021. Check out options and order details on our website at https://sites.google.com/hilliardschools.org/bradleyyearbook/wish-ads?authuser=0.
STUDENT SERVICES TEAM
Check out the COUNSELING TEAM WEBSITE.  Also, there is a lot of information on your "Class Of" Canvas page to assist you with any counseling needs.  The TEAM is here for YOU!

Summer Bridge Program Registration Open
This summer, the district will host academic and enrichment opportunities for grades K-8, as well as traditional summer school for high school credit. Details of the new Bridge program will be shared on our district website Friday, April 16.  You will be able to see the options and begin to register your student at 4pm.  It is important to note that we will have limited capacity based on staffing, so if more people sign up than we have openings, there will be a lottery.  This summer our opportunities are only for students in the Hilliard City School District.
High School – First Session: June 1-June 11; Second Session: June 14-June 25 In order to meet contact hours required by the Ohio Department of Education, Physical Education classes will run from June 1-July 9
Kindergarten through 8th Grade – First Session: June 7-18; Second Session: July 19-30
You will be notified by May 7 as to which session and classes your student is enrolled in.
Ready for Tomorrow Career and College Expo
 Please make plans to attend our virtual Ready for Tomorrow Career and College Expo on April 21 from 5-6:30pm.  Students, parents, and community members will have the opportunity to learn about options for students after college, including career pathways, job readiness, tuition assistance and more.  There will also be career options for parents and immediate job openings for those looking for a new career.  More details will come in April.
Tolles Information Sessions For Parents of 6-9 Graders
 Thinking college and career? Attend an upcoming online discussion to learn more about the "super electives" your kids can take later in high school with Tolles. Engineering & manufacturing, marketing & logistics, healthcare (pharmacy, nursing, exercise science, veterinary), computers (networking, web design), art design & communication, digital media development, and more. Three dates in April.  Learn more.