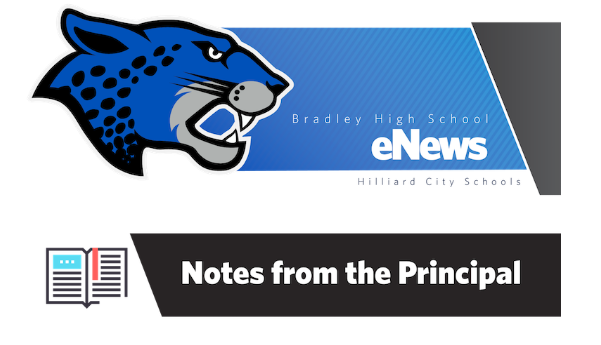 Good Afternoon Jaguar Families,
It was great to have our students back in the building after a restful and relaxing spring break. We are looking forward to ending the 2022-2023 school year in a positive and productive way.
Congratulations to the Bradley Winter Guard who competed in the Mid East Performance Association Color Guard Championships, placing 1st out of 12 groups in the Scholastic Regional A class (the 2nd largest class in the circuit this year).
We are extremely proud of the work this group did this season. Please congratulate the following students on their gold medal-winning performance: Seniors – Kirsten Schumaker, Makenzie Self, Juniors – Audrey Ahrens, Catherine Dorrian, Aly Galore, Bella Self, Sophomores – Kyleigh Banta-Heaberlin, Natalie Huot, Emily Jefferson, Joselyn Villanueva Perez, Hailey Phillips, Freshmen – Tiffany Mam, Sophia Manring.
Congratulations to Shades of Blue for advancing to the International Championship of High School A Cappella Finals for the first time in school history! They will compete on April 28th at the Town Hall Theatre in New York City as one of the top 9 high school a cappella groups in the country!
Have a great weekend and Go Jags!!!

Senior Parents, please have your senior complete the Intent to Participate form for Graduation.
Intent to Participate (Schottenstein Center Ceremony)
Note: This form is due April 30, 2023
Do you still need to order your cap & gown???
There are 2 EASY ORDERING OPTIONS:
1. ONLINE: WWW.JOSTENS.COM  2. PHONE:  1-800-JOSTENS (567-8367

Juniors and Seniors:
You're invited to attend Bradley High School's Prom!!
Where:  Kemba Live, Located in the Arena District, downtown Columbus
When:  April 29, 7:30pm – 10:30pm
Tickets – $55 – Go on sale starting April 15 at Local Level
Guests – Of course. Must be in high school or one year out of high school. Cannot be older than 21.
Questions – see Mrs. Cote' or Mr. Gerber

Happy spring Bradley families!  Thank you for your support at the Strawser's Ice Cream, Pop and Cany shop spirit night!  Our next spirit night is Monday, April 17 at Texas Roadhouse on Hilliard from 3-10pm. We will hold out next meeting in the Pup area at the Heritage Golf Club next Tuesday, April 18 at 5pm.
Still need spirit wear?  We also will be selling t-shirts at the track and field event on May 5.  Lastly, be looking for the sign-ups for Teacher Appreciation week May 8-12.  We will be asking for donations for the coffee cart and the luncheon.  Thank you for your continued support.

Wednesday, April 19th
WHAT:  Biology – Part 1 & 2 End-of-Course Assessment
WHO:  ALL students enrolled in one of the following courses: Biology, Honors Biology
WHERE:  Classrooms throughout the building
WHEN:  7:40 a.m.
Spring State Testing Schedule 2023
Test takers need to arrive at normal time. Similar to a traditional school day, breakfast will be available in the morning for test takers.
Non-Testers will have a DELAYED start. Lunch starts at 11:40 a.m. and regular classes start at 12 p.m.
On testing days, there will be a brown bag lunch service. Limited brown bag lunch options will be available to students who receive or choose to purchase a school lunch.
Buses will run at their normal times in the AM and PM. If Non-Testers need to ride the bus to school, they will report to the Commons area from 7:40 to 11:40 a.m. for a quiet study hall, then lunch. We suggest making prior arrangements for drop off on this day, if possible.

In order for athletes to participate, all of the following must take place.  
**Physicals must be updated prior to participation.  Upload two forms from the physical — Physical Exam Form and Medical Eligibility Form — to the parent's Final Forms account (paper physicals will not be accepted).  **Both athlete and a parent/guardian must sign all forms in Final Forms.  **Participation Fees may be paid beginning March 1 and must be paid prior to the first competition through your MyPaymentsPlus account (check or cash will not be accepted).  All athletes, including free or reduced lunch, must complete the payment process through MyPaymentsPlus.  Free or reduced lunch must check out through MyPaymentsPlus by paying half (reduced lunch) or $0 (free lunch) payment.  Fees must be paid prior to the first competition.
ATHLETES MAY NOT PARTICIPATE IN THE COMPETITIVE SEASON UNTIL ALL OF THE ABOVE IS COMPLETED.

Hilliard Bradley Theater Presents……PIPPIN
Save the dates and join us for the final production in our season April 21-23!

April 17 – Muffins & Military
April 17 – Senior Picture & Cap/Gown Pickup
April 29 – Prom
May 2   – No School
May 25 – Bradley High School Graduation
May 26 – Last day of school

Last Chance to Register for Summer School
Time is running out to register for a summer extension workshop for students in kindergarten through fifth grade, and online high school credit classes.  All offerings will be based on the availability of staffing. Registration is based on the students' current 2022-2023 grades.   Click here to learn more and register your student today.
April Staff Embrace, Empower, Inspire Award Winners
 This moth we ask you to join us in celebrating Cami Kowalski (Math teacher at Hilliard Bradley High School) and Dawn Blankenship & Kelley Burkhart (Enrollment Specialist at Central Office.) Each month students, parents, or community members can nominate a staff member who goes above and beyond their duties.  Click hereto read more about this month's winners.  There is also a link on that page to nominate someone you have noticed doing exceptional work.
Student Summer Volunteer Opportunity
High School Students are invited to volunteer with FESTA for their summer programs.  You will have the opportunity to grow leadership skills, make friends with people from all over the world, and impact the Hilliard community in positive ways.  You can sign up and learn more by clicking here for their web page.