Bradley eNews – April 14, 2022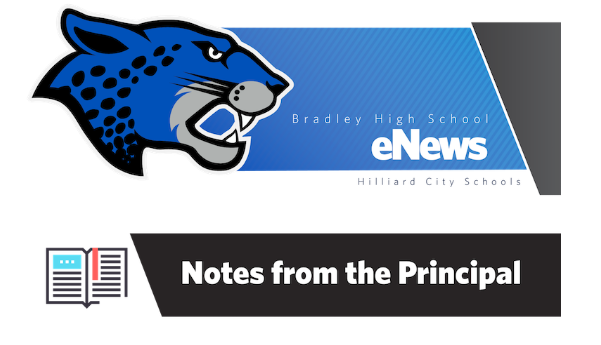 Good Afternoon Jaguar Families,
We are delighted to report that the Bradley Ethics Bowl team had a wonderful weekend at the National High School Ethics Bowl at UNC-Chapel Hill. On Saturday, they competed in four preliminary rounds, logging impressive wins against Phillips Exeter Academy of New Hampshire and James Byrnes High School of South Carolina. While we didn't qualify for the quarterfinals on Sunday, we are so proud of Gwyn Caudy, Jordan Hires, Anna Miller, Zak Qaisi, and Kaci Yano
Senior parents, as we continue to go paperless, please make sure to access Canvas and the  "Class of" pages to continue to get information pertaining to senior events. Please click the following link for information about senior activities and graduation.
Next week we will be administering the Biology and Government OST's on Tuesday, April 19th and Thursday, April 12th On these two days we will be running a modified schedule to accommodate the four hour testing window that is allotted for students to complete the exams.  During testing times, AP teachers will be running review sessions for non-testing students to help prepare AP students for the upcoming AP exams in May. On the scheduled testing days, we will be running a block schedule in the afternoon. (Click Here) Students will be required to attend periods in which they have academic classes.
Have a great weekend and Go Jags!!!

All the Resources you need to understand the process successfully!
Bradley High School Graduation Resources – are located on the Bradley School Counseling home page.  A step by step process to make transition to the new requirements as smooth as possible.
Summer School Information in now available please check out the School Counselor web page for all the details.
Just a reminder, there are still scholarships available, please go your child's Naviance home page to see what is still a available.
https://www.hilliardschools.org/hbr/guidance/
Job Postings – The school Counseling office has many job postings for your child to find a job, lots of employers are looking for our students to work.  Please tell them to stop by our office.

Spring Sports Notes:  In order for athletes to participate, all of the following must take place.
**Physicals must be updated prior to participation.  Upload two forms from the physical — Physical Exam Form and Medical Eligibility Form — to the parent's Final Forms account (paper physicals will not be accepted).
**Both athlete and a parent/guardian must sign all forms in Final Forms.
**Participation Fees can be paid beginning March 1 through your MyPaymentsPlus account (check or cash will not be accepted).  All athletes, including free or reduced lunch, must complete the payment process through MyPaymentsPlus.  Free or reduced lunch must check out through MyPaymentsPlus by paying half (reduced lunch) or $0 (free lunch) payment.  Fees must be paid prior to the first competition.
ATHLETES MAY NOT PARTICIPATE IN THE COMPETITIVE SEASON UNTIL ALL OF THE ABOVE IS COMPLETED.

April 11 – Board of Education Meeting, at Brown Elementary, 6:30 pm
April 15 – No School
April 25 – Board of Education Work Session, at Central Office, 6:30 pm
May 3 – Professional Learning Day for Staff, No School for Students
May 9 – Board of Education Meeting, at Crossing, 6:30 pm
May 25 – Bradley High School Graduation
May 27 – Last Day of School

Parent University – Eating Disorders
The Hilliard City Schools Department of Wellness will be hosting a Parent University session on eating disorders and related behaviors for adults who are supporting children struggling with disordered eating.  This event will be held in the Media Center at Heritage Middle School on April 20 at 7:00 pm.  You can learn more on our web page.
Summer School
Hilliard Summer School 2022 will run May 31 – June 30.  On April 18, the Summer School 2022 website will go live detailing all of the programming we will offer current students, grades K-12. The student registration for K-8 programs will run from April 18-29, while High School Summer School registration will run April 18th-May 31st for Session 1 and April 18th -June 13th for Session 2 and PE.
Kindergarten through 8th grade Reading and Math Intervention sessions will run June 6-9 and June 13-16 from 8:30am-11:30am.  Exploration camps will run June 20-23 and/or June 27-30.
High School Session 1 will run May 31- June 10, PE will run May 31- July 8, and Session 2 will take place June 13-June 24.
For exact program details and descriptions as well as student registration, please visit our webpage on April 18th. Please note that space will be limited based on staffing and a lottery system may be used to enroll students.