*Additional beginning of the 2020-2021 school year information coming soon.  Details regarding 9th grade orientation, parent meetings, class meetings, textbook hand out, etc. will be available during the week of  8/17-8/21

*
Dear Bradley Family: August 2020
We hope this letter finds you, and your family, healthy and excited about the 2020-2021 school year! Whether we have online learning or in-person instruction, our staff is dedicated to creating a positive educational experience. At Bradley High School, we realize the importance of ongoing communication with our parents and our community. It is our hope that this letter will serve as the first of many opportunities for you to stay informed. This year, we understand there are feelings of uncertainty around unpredictable events. As we shift our mindset to what we can control, we know our Jaguars are resilient and ready for the challenge. We are confident this will be another great school year!
As we transition to August, we ask that you begin to check email frequently for important updates. ​Due to changing information, our primary form of communication will be through email and our school website ​(​hilliardschools.org/hbr​). On our website, please continue to reference "20-21 School Year Information."
The first day of school will be on Monday, August 24. Our plan to start school will mirror the Franklin County Risk Levels. As we write this letter, Franklin County is currently at Level 3. According to the graphic below, this level corresponds to all students starting in online learning (HCS eLearning 2.0).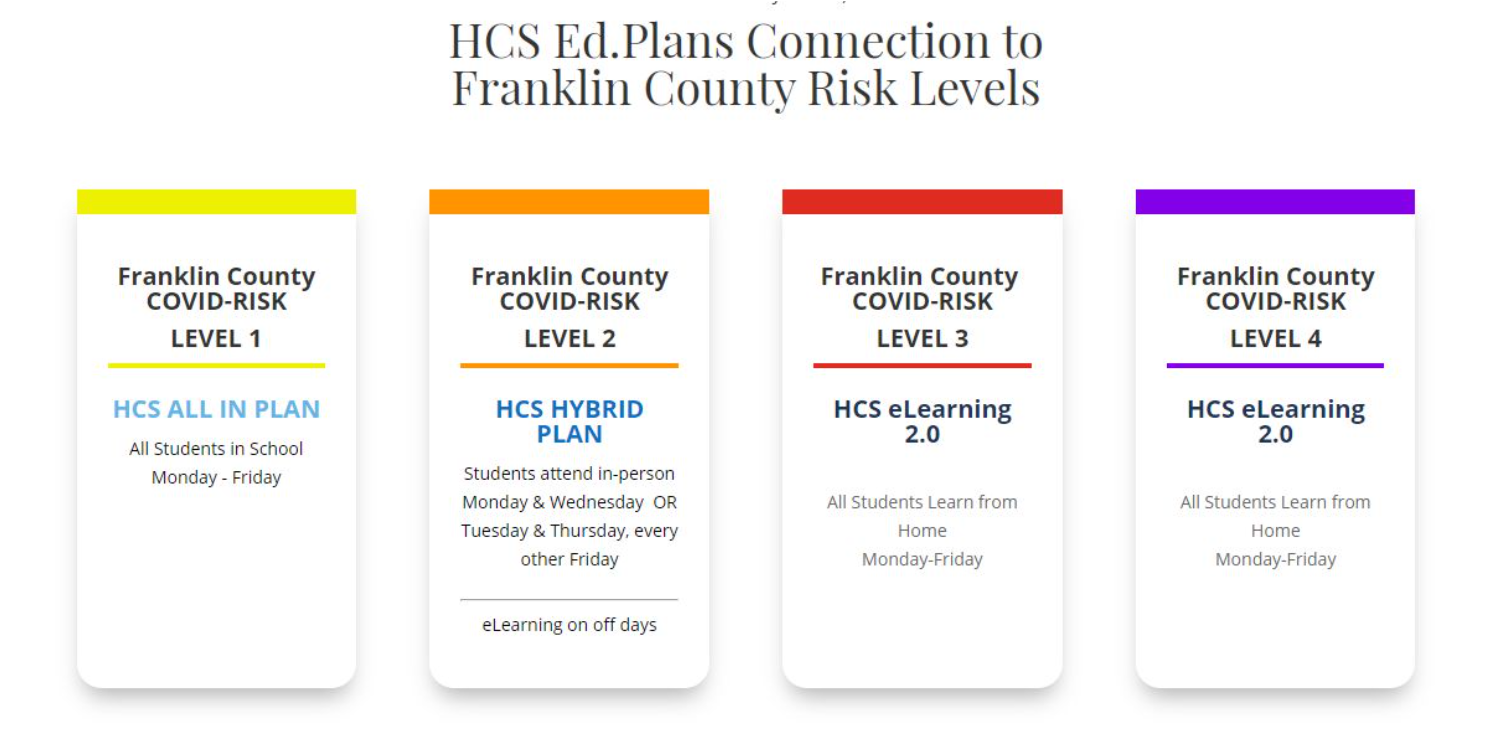 For every learning environment, students will need their iPads. August 10-13 will be our iPad distribution days at Bradley High School. Please see the attached page for your specific date and time.
We truly appreciate your patience and understanding as we navigate this unprecedented time. As a member of our Jaguar family, we share our sincere gratitude for your continuous support. We are all in this together!
Go Jags!
Mindy Mordarski
Principal
Hilliard Bradley High School