HILLIARD BRADLEY HIGH SCHOOL
Tuesday, November 21 ,2023
IN THE NEWS
A couple of reminders:
– NO Food deliveries: Reminder that no food deliveries are allowed during the school day.
-Riding a bus with a friend: At this time, transportation is not allowing extra riders this year on our buses due to capacity.
-NO Change or Vending Machine refunds: The office does not have change or refunds.  For refunds, you will need to call the number on the machine.
-Doors at Bradley in the morning: 
Just a reminder that the doors for student entry in the morning are open at 7:20am.  Please do not drop your students off earlier.
2024 Yearbook information
Follow this link to order your 2024 Bradley High School Yearbook. 
Instructions to submit senior portraits can be found here. 2024 Senior Portrait Submission Link.
Hilliard Purple Star Scholarship Raffle:
All proceeds will fund annual scholarships for students of active military and veteran families at each of the Purple Star Hilliard High Schools.  Enter to win authentic theater-style seats from the Ohio State Stadium, removed from Suite Level, summer of 2022.  To enter to win, scan this QR code.  Drawing will be held on January 26, during the Bradley-Davidson Basketball game.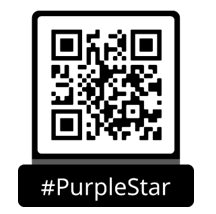 Right click and open hyperlink on the link below.
GUIDANCE OFFICE-STUDENT SERVICES
Remember to use the QR code if you need to see your guidance counselor.
Job opportunities:  There are several job postings right inside the Student Services (Guidance) Office. 
College Visits:
Attention Juniors and Seniors!  We have started to schedule visits with college representatives here at Bradley.  Please use your Schoolinks account to view the full schedule of colleges and their times and sign up for visits.
CLUB ANNOUNCEMENTS
Bradley Faith meets every Monday at 2:35 in B276.
Future medicals will be welcoming two guest speakers this month in SC140. November 20th – ER Doctor and November 27th – Pharmacist.  See Mrs. Baker with questions!
Interact Club – A Service & Volunteerism Club – Meeting at 2:40 – 3:10 PM in C285 (Lecture Hall).
Here are the dates of the meetings: Thursday, 12/7. Meetings are open to any Bradley student and can be joined at any time throughout the year. Please email pam_worth@hboe.org with questions. Hope to see you soon!
Key Club – Become part of an international service organization.
Meetings are the 1st and 3rd Mondays of each month.
12/4
12/18
Unicef Club – Advocate, educate, and fundraise for children around the world who face challenges to survive, go to school, and escape conflict or disasters.
Meetings are the 2nd and 4th Tuesdays of each month.
11/28
12/12
Art Club – Meets every other Tuesday, in room C104, after school until 3:30.
All are welcome.
11/28
12/12
ATHLETIC EVENTS