Good Afternoon Alton Darby Creek and Preschool Families,
We have all dealt with the frustration of traffic issues during arrival and dismissal at the Alton Darby building this year. Our team has been studying and working with operations to create a new procedure that will cut down on the congestion on Alton Darby Road.
First, we ask anyone who has the option for bussing to utilize the service.  At this time, we have many families not using the bus, which means many more cars in the parking lot. So we would ask those in the walk zone to also use this option to cut down on extra cars.  For those who do carpool and have students in both buildings, we ask you to drop them off and pick them up at Darby Creek. We have a shuttle that will take your younger student to Alton Darby safely.  This way, you only have one stop to make, and it minimizes congestion.
If you are driving your student to the Alton Darby building, we ask that you enter the lot at the north end of the property for both drop-off and pick-up. We will be using two lanes around the back of the building to accommodate more cars in the lot. If you are traveling north on Alton Darby, you will pull into the right lane.   If you are heading south, you will use the left lane. Please see the graphic below.  You may not park your car and walk your student into Alton Darby; you must stay in your car and follow the traffic pattern.  Again, this is for both drop-off and pick-up.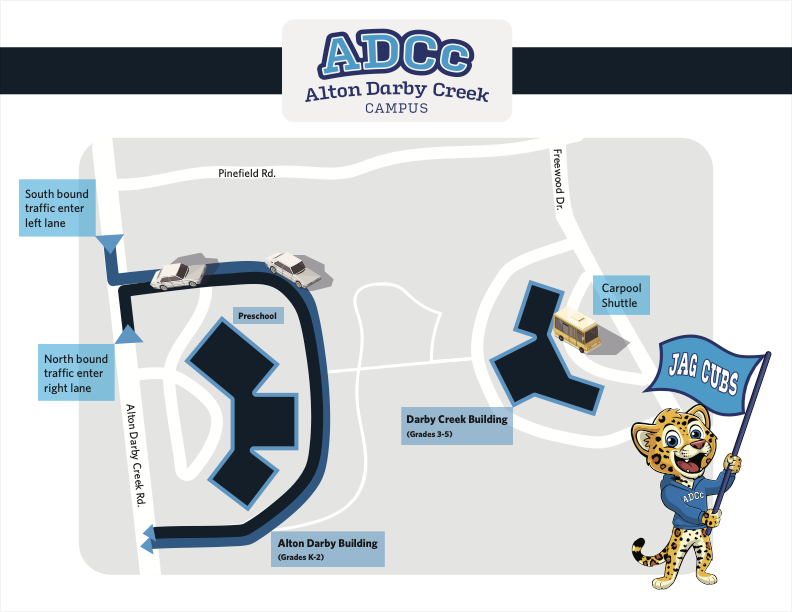 For our Preschool families, you must arrive at your designated times for drop-off and pick-up.  If you come early, it can greatly impact the safety and flow of traffic at Alton Darby. Those times again are:
AM ARRIVAL 9:10      START TIME 9:20    DISMISSAL 11:45
PM ARRIVAL 1:05    START TIME 1:15    DISMISSAL 3:40
Please do not park in the staff lot, as this to causes a safety issue.
We greatly appreciate your cooperation and patience as we work through this change. Safety is our highest priority.
Sincerely,
Paige, Cindy, Brian