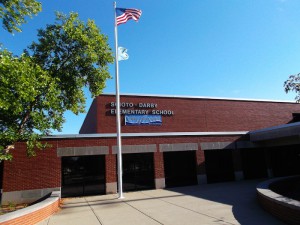 Scioto Darby is a K-5 building with approximately 450 students.
The location of Scioto Darby has been the home of many different schools over the past 75 years.
Scioto Darby is the most centrally-located elementary school in the District, being just one block from the main intersection of Hilliard.
Our mission statement:
At Scioto Darby We Take Care of Others, Take Care of Ourselves, and Take Care of our School.
We believe in building Community through Relationships in order to personalize learning for students
Address:

5380 Scioto Darby Road
Hilliard, Ohio 43026
Phone (614) 921-6300
Fax (614) 921-6301
Attendance Line: (614) 921-6340
Principal:
Holly Meister
School Hours:
Building Opens: 9:05 am
Tardy Bell: 9:20 am
Dismissal: 3:45 pm
Colors:
Blue and Black
Mascot:
Panther Cubs