Looking for ways to get involved and help out with school activities?  Then look no further!  Check out the areas you would be interested in volunteering for below.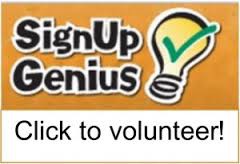 Publishing Shop: help students publish books they have written at school
Taste Test Tuesday: help to introduce and serve new foods to students during lunch hours
VIP Social: Join us for a fun-filled night of dancing and celebrating!
Walk-a-Thon: help punch lap cards during this fun and healthy fundraiser
Spooky Gym: help make this fun night a success by volunteering.
Conference Night Food Donations: donate a food item for the teacher's dinner during the scheduled building conference night.