School Counselors
Welcome! Our mission as school counselors at Hilliard Station Sixth Grade is to provide services that support a comprehensive program. Our goal is to meet all students' needs in the areas of personal/social development, academic achievement and post-secondary planning. We strive to accomplish this through partnerships with families, students, staff and community resources. Here at Station, we focus on building skills that will help students successfully transition from elementary to middle school. We truly enjoy serving our Station families!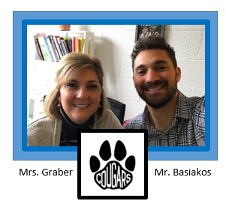 Mr. Alex Basiakos
Teams A, R, S, 29  
614-921-6806
Mr. Basiakos grew up in Hilliard and received both his bachelor and master's degree from Capital University. He enjoys playing soccer, mountain biking, traveling and experiencing new foods. Mr. Basiakos says the best part of being a school counselor is meeting students and learning about their passions and interests!
Mrs. Amy Graber
Teams C, O, U, G
614-921-6808
Mrs. Graber lives in Hilliard and is proud that both of her kids graduated from HCSD. She attended Ohio University for her bachelor's and University of Dayton for her master's degree. Mrs. Graber enjoys traveling, spending time with friends and family, binge-watching TV shows and is always looking for new adventures. Mrs. Graber thinks 6th graders are super cool and loves spending time with them!
RESOURCES
Emergency Crisis (if you need immediate help):
Call 911 for police
Safe Schools Hotline: 1-800-418-6423 ext. 359 or text TIPS to 66746
Suicide Crisis Hotline: 1-800-273-8255 or text HOME to 741741
Nationwide Children's Crisis Line: 614-722-1800
National Suicide Hotline: 1-800-273-8255
Substance Abuse Help 1-800-662-4357
Sexual Assault Hotline: 1-800-656-4673
Outside Counseling Agencies:
Wellness & Prevention
Foster Family Support