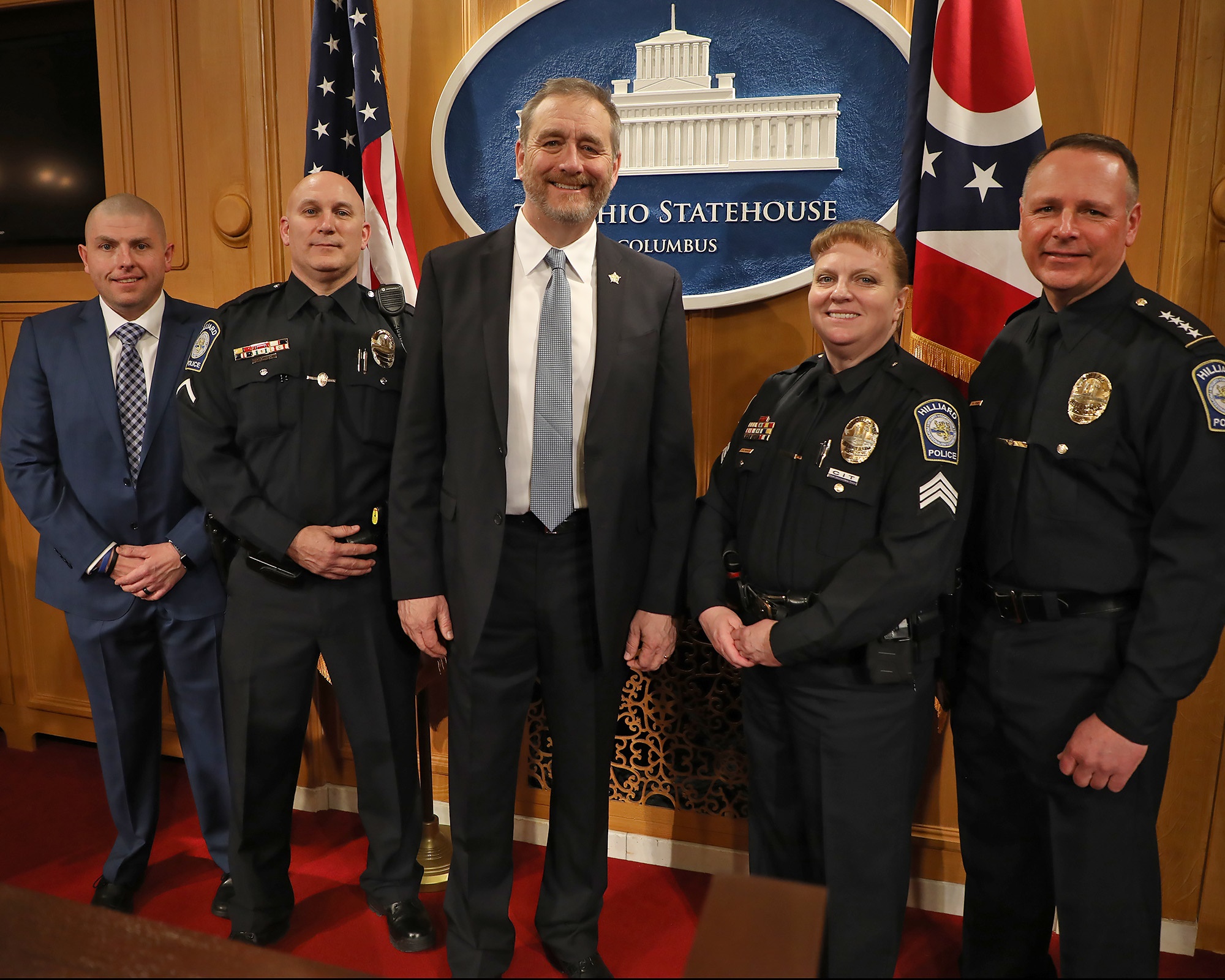 Ohio Attorney General Dave Yost announced the development of new resources to address gaps in preventing targeted violence in schools. Training curriculum now available free for local school administrators, law enforcement and others focuses on stopping violence before it starts.
Hilliard Superintendent John Marschhausen is proud to join members of the Hilliard Division of Police in these training videos.  "The Hilliard Police and Hilliard Schools contributed their expertise to help my office develop these threat assessment training materials," said Attorney General Yost. "They're ahead of the curve in implementing these protocols, yet continue to review others' best-practices. That's the strength of this program: sharing information to help prevent violence, rather than just reacting to stop it once it's already happening."
The new training materials provide guidance on the use of threat assessment protocols, recognized by education and safety experts as effective means to enhance proactive targeted violence prevention efforts. The goal of a threat assessment is to identify persons of concern, assess their risk for engaging in violence or other harmful activities, and identify intervention strategies to manage that risk. The training is provided in a series of 10 video installments and a printed reference guide. These Ohio materials are also under review to be offered as an included resource on the new Federal School Safety Clearinghouse website, SchoolSafety.gov, launched earlier this month.
"This is more than training for cops or school principals," said Yost. "The local, state and national experts in our videos make it clear that prevention only happens when parents are involved, the local school board is involved, counselors are involved. The material we're posting today is for everyone. It gives us all a direct connection into the effort."
"We train school administrators, school resource officers and others about using a threat assessment model, and this is an excellent compilation of national, state and local input," said U.S. Secret Service National Threat Assessment Center Chief Dr. Lina Alathari. "It's being provided in a manner that can easily and immediately reach any local school building and any local law enforcement agency. We're pleased to be involved."
As part of the program, grants are being made available to help local schools build their own threat assessment teams. School resource officers or other law enforcement personnel with primary responsibilities that include school safety may receive a $500 Ohio School Threat Assessment Training Grant when they complete the training and agree to help form or participate on a school-based threat assessment team.
In addition to the 10-part video training series focused on threat assessments of concerning persons, an additional companion video available only to law enforcement personnel focuses on identifying vulnerabilities in the physical school building and grounds. Law enforcement personnel must complete all 11 portions of the training to qualify for the grant.