---

Introduction
Reading is important. Fostering a love for reading and a positive attitude towards reading will help your child develop into a confident reader.
Where To Find Books
School, classroom, public library (online), bookstore, digital resources
Columbus Metropolitan Library Tumblebooks – This site offers free books that can be read online. Under "Most Popular" section, click the "visit" button in the Tumblebooks box. You will be prompted to enter your library card number and pin. Once you do so, you and your child will have access to amazing picture books, chapter books, nonfiction books, and more! They can be read online, and there are choices to meet all interests and levels!
Starfall– This site is a free public service site to teach children to read with phonics. It is perfect for preschool, kindergarten, first grade, second grade, special education, homeschool, and English language development (ELD, ELL, ESL).
PBS Kids– This site has two main areas: the Kids area and a Parents & Teachers section.. An area of special note is Lions To Go, featuring free downloadable songs, stories, and more.
Wonderopolis– Explore. This site encourage children to; Imagine. Laugh. Share. Create. Learn. Smile. Grow. Wonder is for everyone. It can happen anywhere and at anytime. Connecting the learning we do in our schools, our homes, and our communities. Each day, an intriguing question is posed and explored in a variety of ways. The site informs and encourages new questions, sparking new paths of wonder and discovery. Kids can choose to read on their own or play the "listen" button to have the content read aloud.
Storyline Online–  This site contains videos of books being read aloud to children. Reading to children has been repeatedly shown to improve their reading, writing and communication skills, and more… as well as inspire a love of reading. Well-known actors are recorded reading children's books with dynamic videos so that children around the world can be read to with just the click of a Storyline Online video book image.
"Children who read the most will always outperform children who don't read much." (Loc 308)  "Developing readers need more reading, not less." (Loc 569)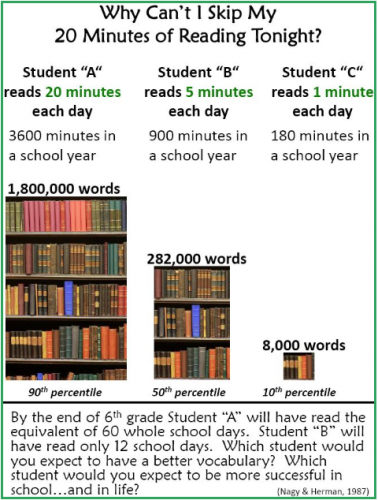 Read Video Transcript
:00 Introduction:
We wanted to share with you a little bit today about what you can do at home to cultivate a love of reading and writing with your child.  Because the love of reading really starts in the lap of parents.  We want to be sharing good books with our children and what books do for us.  For instance, this one by Todd Parr, Reading Makes You Feel Good.  You can do it anywhere, this book says.  You can use your imagination in books.  You can learn about places and people.  You can make friends.  A book becomes your friend.  You can do it anywhere.
:40 The Importance of Making Reading an Enjoyable, Warm Experience:
For instance, when I was growing up, my parents would read to me from these little golden books.  This one was called Peter Rabbit, and you can just see how well loved it was.  But it's more than just the words in this book, it's the feeling I got of that alone time with my mom and dad and talking about what's going on in this book.  It became a favorite.  As I got older, one of my favorites was a book of poetry.  And again, in my my I can picture my parents talking to me about this book.  One of my favorite books (poems) was called Nancy Hanks, who was actually Lincoln's mother.  And I think I've become a Lincoln fan because of my love for this poem when I was maybe in 4th or 5th grade.
1:40 Volume Matters
We want you to know that volume matters.  The amount of reading that a child does matters.  You can do lots of things to have books accessible.  Put them in your car.  Have them in the back seat there in the little net so they'll grab one and read.  Let your child have a night light, and then they can stay up for a little bit if they want to read.  All of those kinds of little things, just having ten minutes here, ten minutes there.  Maybe when you're waiting in the dentist's or doctor's office.  Those little bits add up and that practice counts. 
2:17  Different Ways to Read With Your Child
There are many ways to read with your child.  You can read to your child.  You may want to read with your child.  For instance, in Reading Makes You Feel Good, there's a phrase that repeats itself.  It's about, "And you can do it anywhere."  They may want to join in and do sort of a shared reading with you.  "And you can do it anywhere."  They're going to want to do some independent reading, maybe just looking at the pictures, starting to match the pictures and the text.
2:47 Writing and The Power of Words
You may also want to do some authentic writing activities with you child.  For instance, maybe have them help you make a grocery list.  Maybe have them write some letters.  Maybe make a little photo book.  Like this little photo book, called Ava and Ally.  Just take a picture.  And here are the words that go with it.  "We like eating.  We love each other."  It's a very easy way to write a book and make one with them, and they're going to be very interested in it because it features them.  Show them the importance of writing.  Maybe write a letter to a grandparent, a friend, or a birthday card, or a neighbor.  Show them the power of words, that words have meaning.  Here's just a little piece that I have framed here, and you can see that the writing is very primary, maybe kindergarten or first grade writing, but my point is that this piece of writing holds a lot of meaning.  So important, that I put it in a frame.  And I can give it as a gift or just sit in on my desk as a reminder.  We want our children to be able to see the power of words.
4:00 Summary
In summarizing, there are three important things to remember.  One is that volume matters.  And remember, it's okay if it's five minutes here, five minutes there, ten minutes when you go to bed.  This all adds up.  Those minutes are important.  The second part is, remember to give children a choice.  Look at what they're interested in.  They might like pets.  Maybe they're interested in soccer.  Pick a topic that interests them.  Have them go to the library.  Let them browse through the book store.  Let it be a reward.  Reading can be that reward; going to a bookstore and picking out a book.  Last but not least, make it enjoyable and fun.  We know that in Hilliard, we've been talking about dreams, having each child have a dream and making their dreams come true and every teacher having a dream.  Really literacy, reading a writing, is the key to making any dream come true.  So happy reading!
When reading and choosing books:
Volume matters; bits and pieces of time spent reading add up!
Encourage reading when you can!
Let your child choose books based on their interests.
Make it enjoyable and fun!
Your Challenge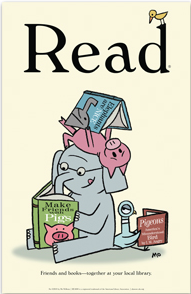 People can be found reading in the most unusual places or in unusual positions. Please tweet us a picture of your child reading with the hashtag #hilliardreads—anywhere, any way.  If you don't have a Twitter account, it's free and you can create an account here!