---

Do you sometimes feel like Goldilocks?  If your child has brought a book home that was too hard or too easy, and it made you want to run for the woods to avoid reading, you know how she felt.
How some elementary readers choose books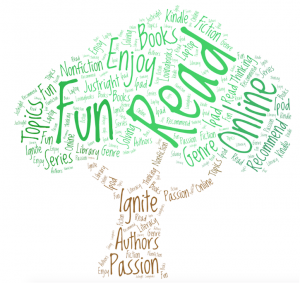 Resources
For early elementary readers, encourage them to think about the following ideas:
The Columbus Metropolitan library staff is eager to work with your child to pick a just right book..  They will interview your child to find fiction or nonfiction books that will match your child's interests.  Just stop in and ask!
For upper elementary students, encourage them to take the following into consideration:
The Goldilocks Strategy for Choosing Books
Good readers spend time with easy, "just right," and hard books, but mostly "just right" books.
Easy Books
Ask yourself the questions below. If you answer yes, this book is probably an easy book for you. EASY books help you read more smoothly and are fun to read both aloud and silently.
Is it a favorite book you have read before?
Do you understand the story very well?
Can you understand and read just about every word?
Can you read it easily and smoothly?
Just Right Books
Ask yourself the questions below. If you answer yes, this book is probably a "JUST RIGHT" book for you.
"Just Right books help you learn the most because you can figure out most of the words and you understand what's going on in the text."
Is this an interesting book that you want to read?
Are you familiar with the content, author, series, genre?
Can you tell another person what is happening in the story and/or what you're learning?
Do you sometimes need to reread a part to understand it?
Are there just a few words per page you don't know?
When you read are most places smooth and some choppy?
Hard or Challenging Books
Ask yourself the questions below. If you answer yes, this book is probably a HARD or CHALLENGING book for you. Spend a little time with it now and learn what you can. Perhaps, someone can read the book to you. Give it another try on your own later.
Are you interested in reading this book?
Are you confused about what is happening in most of this book?
Is it hard to understand even when you reread?
Do you needs lots of help to read this book?
From: Reading Essentials By Regie Routman (Heinemann: Portsmouth, NH) 2003.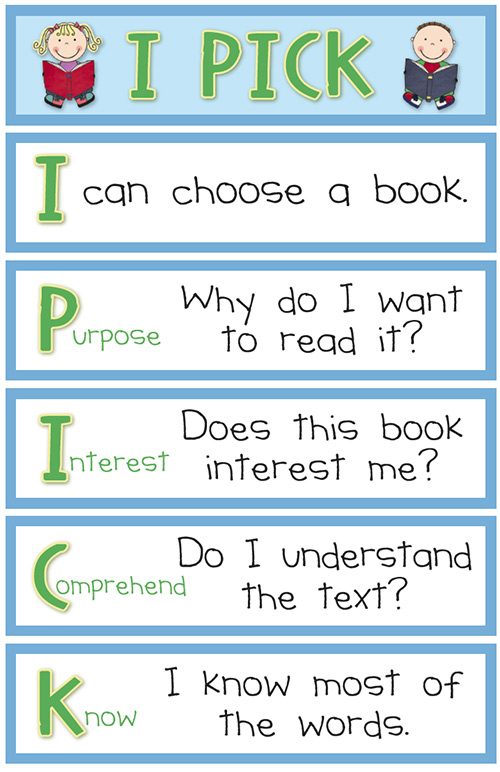 Websites for book titles to check out as well as book recommendations and reviews!
Scholastic Book Lists and Recommendations-This site has books lists for specific age groups. Browse book recommendations for ages 3-5, 6-7, and 8-10.  You can search by award winners, genre, or topic!
Spaghetti Book Club-This site is a place for kids who love to read and talk about books! It is the largest site of book reviews written and illustrated by kids for kids.
Dogo Books– This site also has book reviews by kids and for kids.
Share What You're Reading, by Scholastic-Have you ever read a book that was so amazing you told all your friends "you've GOT to read this!"? Here's your opportunity to share with other students what you are reading and to discover new books based on other kids' recommendations.
Common Sense Media-On this site, search book reviews by age, genre, topic, award winners, and more.
SlimeKids-This site takes you to several sites that have book reviews, including ReadKiddoRead and more. It also has book trailers!
Buckeye Book Awards-The Buckeye Children's and Teen Book Award program is designed to encourage students in Ohio to read literature critically, to promote teacher and librarian involvement in young adult literature programs, and to commend authors of such literature. You can see past winning books and vote on 2014 nominees!
Great Websites for Kids; Literature and Language-This site is a compilation of sites for kids that include many favorite author pages and more. It was made by the American Library Association.
Your Challenge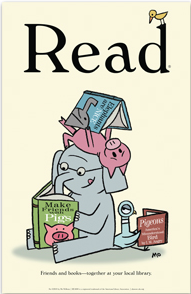 Tweet pictures of your child's or students' "just right" books!  Include the child's age and/or grade so other students can get ideas about choosing books as well!  Include the hashtag #hilliardreads and you'll be on our website!
Have your child or student rate a book that he or she has read so other students can see their recommendations.  Include any other details your child thinks readers may want to know and picture if you can!  Include the hashtag #hilliardreads and you'll be on our website!
For example: 5/5 stars to Alexander and the Terrible, Horrible, No Good, Very Bad Day. Super funny! #hilliardreads