Walk-A-Thon – September 27
Washington Elementary Walk-A-Thon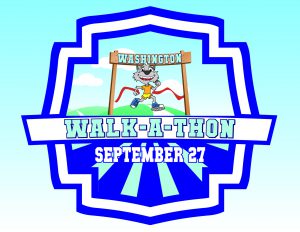 Dear Washington Elementary Families,
The Annual Washington Elementary Walk-a-Thon is just around the corner on September 27, 2019 rain or shine! All the students walk together to raise money and improve their health and wellness! So mark your calendars for this fun and healthy event!!
Every $1 collected supports our school, our teachers and our children. Last year, our Walk-a-Thon raised $13,800, which helped to provide the Wolfie Mural, COSI on wheels, and Ga-ga ball playground set. You all did such an amazing job last year by making this event so successful!!!
Through donations and sponsors, we are again able to provide each student with a T-shirt they will wear to the Walk-a-Thon and throughout the year to school events. We will continue counting laps and have an awesome DJ. Our goal is to make this an enjoyable event for our children, faculty, and volunteers. Our goal is to raise $50 per child.
We want to impress this is not only a day of fundraising but also a day for the students to set personal and grade level goals for themselves. The track will be 1/8 of a mile and they will be walking/jogging for an hour. Please encourage your child to set a personal goal. Let's make it even better than last year!
We encourage anyone who can attend the Walk-a-Thon to please do so and help make it a success, whether it be to volunteer with counting laps, or cheering and being positive reinforcement. Please come and support our children, facility, and school. Bring your volunteer badge! Sign up to volunteer at a specific time if you are able!
Please use the button below to donate or check out the Walk-A-Thon forms.