Hybrid Learning to Begin 2021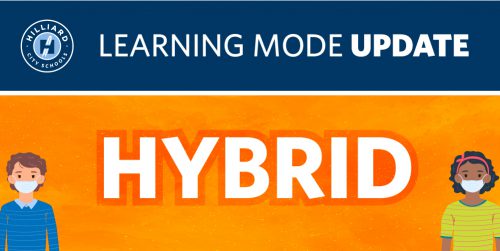 The Hilliard School District will return to Hybrid Learning on Monday, January 4, 2021.  Students in Hybrid Group A will be in school on Monday, Wednesday, and Friday, those in Group B will be in school Tuesday, and Thursday.
We are asking every family to do a home health assessment before sending a student to school.  You should first take their temperature.  If it's above 100.4, you need to keep the student home.  You should also check for COVID-19 Symptoms and contact your health care provider if you have any symptoms.
On the in school days, students will follow their regular bell schedule.  On days they are home, they will work on assignments in Canvas at their own pace.
Meals will be provided to students on their Hybrid days in school and when they are out of school.  You can find details on how to get lunches on the out of school days on our food service web page.
Yesterday, Governor DeWine announced the state is revising its guidance on student/staff quarantine recommendations based on studies that indicate coronavirus spread is not occurring in school buildings. Ohio is no longer recommending quarantine for a student who may have been in a classroom with a student who tests positive for COVID-19, when all other protocols – including mask-wearing and social distancing – have been followed.  This guidance only applies to classroom exposures – it does not apply to other school activities or sports. Hilliard will continue to enforce our COVID-19 measures for health and safety, and we ask our students, teachers and families to continue to do the same.
Hybrid Learning only impacts Online Academy students who attend in-school classes.  All other OA students will continue with their regular schedule.
As we say goodbye to 2020, we want to wish all of our families a healthy and happy New Year!