Field Day – May 22, 2019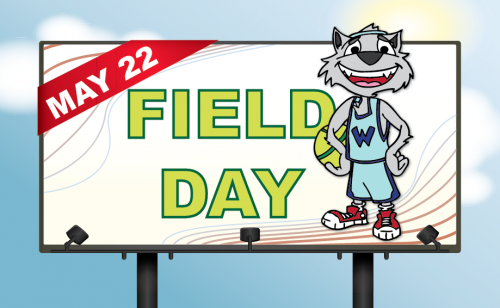 Washington Elementary will host our annual field day event on Wednesday, May 22, 2019. Field Day will be held from 9:00 AM to 2:15 PM. Kindergarten will participate during their designated kindergarten attendance times.  Field Day is not possible without volunteers to help with each event.  Please sign up if you are able to volunteer for an event at Field Day this year.
Field Day is an all-day, outside fun day for our students. Classrooms will travel between many stations throughout the day and participate in team games. Some of the stations/games involve playing in the water and getting wet! The stations will be set up in the field and playground area.
Things to bring for Field Day:
PACKED LUNCH INCLUDING A DRINK! (The cafeteria will NOT be open)
Water Bottle
Hat
Towel
Change of Clothes
Wear your walk-a-thon t-shirt and old shorts; no white clothing
TENNIS SHOES WITH SOCKS – students without socks will not be permitted to play in the inflatables.
NO SANDALS – NO CROCS
NO BATHING SUITS
Please apply SUNSCREEN at home!

PLEASE MAKE SURE YOUR CHILD'S NAME IS ON ALL HATS, WATER BOTTLES AND TOWELS!