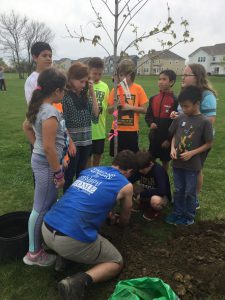 This year the Washington fifth grade students worked on service based capstone projects. In Mrs. Jenkins classroom the students were passionate about helping the environment. As a grade, the students raised money from a penny drive to help fund their capstone projects.
The environment group purchased a tree to help give clean air to the school community. They purchased a native tree (Sienna Glenn Maple tree) from Oakland Nursery. They also held an electronic recycling drive to keep items from going into landfills.
The money leftover was donated to charities, including The Nature Conservancy group which is a non-profit organization that helps the local area keep parks, rivers clean.