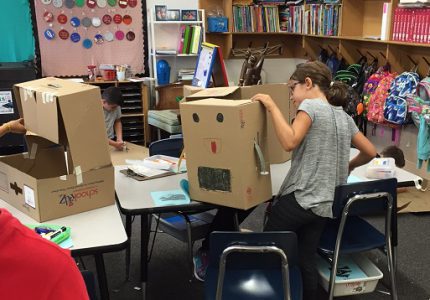 Mrs. Kalb and her fourth grade class at Alton Darby Elementary read the book "What to Do with A Box." She then posed to the students a question…What can you do with a Box?
This helps students understand the meaning of the text and comprehend what was going on in the box. It helps them make connections to what she read. It also helps them learn problem solving skills, it took some thinking for students to know what to do with their box. They could also reread the book for ideas. Students could be as creative as they liked.
Students came up with many innovative and creative ideas. They were able to use all kinds of materials including markers, tape, string, scissors and paper. One student made a treasure chest to keep all his treasures safe. Other students made football fields or basketball courts, another student made a castle with a draw bridge. One student even made a robot and a pinball machine. Preparing students to be Ready for Tomorrow means letting them develop their own personalities as they discover what's important in their life.