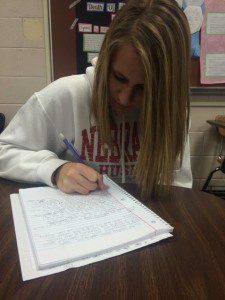 As a senior in high school preparing myself for the next step in life, I am continuously being asked the same enervating questions that leave me even more confused about my future plans than before. What do you want to do? Where do you want to go to school? What do you want to study? What job do you hope to have? I am expected to know all of these answers, but when in reality, I am only sure of one thing, I have no idea!
The senior capstone project is designed to aid a student with figuring all of these answers out. It gives students direction when trying to shape their future; it is a chance to discover what they genuinely enjoy and dislike, experience what they hope to be doing someday, and come to a conclusion of whether or not that aspired dream is right for them. There are three different directions that a student can take when deciding what they want their capstone to be: service, exploration, or advanced studies. The possibilities of choices are endless, and seniors work with their school's capstone coach to help narrow down their options and determine what they want to learn more about or pursue as a career.
From previously working in university settings, Davidson's Capstone Coach Cort Hamilton explains that, "so many students come to college and when asked about what they want to do or what's important to them or who they are as a learner and a person, their answers are simply that college was the next step. Opportunities like capstone help shed light on those students and help them understand where they're going to be investing time and money in the next step of their lives."
As an aspiring journalism and communications major, I am using my senior capstone as an opportunity to experience what I hope to be doing someday in full effect by writing monthly articles for our district's website. Each month I will be interviewing and then reporting about my fellow classmates' experiences, their goals, and how the senior capstone project has enhanced their understanding of their ambitions. Then from my own experiences, I can truly discover whether this is the path I hope to pursue in life.