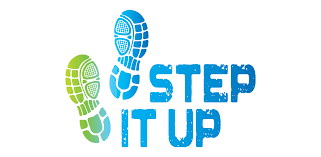 2020 Step It Up Challenge
Summer Challenge:  June 15th – June 28th 
The Step It Up Challenge offers a way to engage in a hassle-free and fun health initiative! The best part is you are competing with your co-workers on the Hilliard Schools team against other organizations around Ohio for prizes like a free lunch, Dick's Sporting Goods and Starbucks gift cards, as well as Fitbits! No Fitbit? No problem! There are other ways to track your steps! Learn more here.
Individuals need to register by Friday, June 12th under the team name: Hilliard Schools.
PRIZES
The team with the highest number of average steps gets lunch for up to 50 people (a $500 value) and a $500 donation made to your local Ronald McDonald House or school garden. Individuals can also compete in 'mini-challenges' throughout the two weeks to win new Fitbits, as well as gift cards from Dick's Sporting Goods, Starbucks, and more!